Buying make-up brushes can be a daunting task, especially if you're just starting out or you want to add to your existing collection but don't really know what brushes you may need, what they're used for, or what they look like. This is where a make-up brush guide comes in handy.
There are a few essential brush 'must haves' that should be in your make-up kit. If used correctly, these brushes will help you create flawless, beautifully applied make-up. They are: powder brush, blush brush, eye shadow brush, blending brush, angled brush, eyeliner brush, mascara wand and a lip brush.
To help you decide which brushes you may want or what you still need to get, here's a make-up brush guide, showing what each brush looks like, and what it's used for, and at the end there's also a guide of other useful make-up tools that you may encounter:
Foundation Brush. A flat brush usually with two-toned bristles. Can also be round with a flat top. Used for applying liquid or cream foundation, or to smooth out foundation after applying it with your fingers.
---

Concealer Brush. A narrow, flat brush with a slightly tapered edge. Used for applying colour corrector and concealer to problem areas.
---

Powder Brush. A big, soft, rounded brush. Used for applying loose or compact powder. Gives a more even finish than a puff.
---

Fan Brush. A flat, light brush with splayed bristles. Used to brush away loose eye shadow or excess powder.
---

Kabuki Brush. A large brush with wide, round or flat bristles and a short handle. For applying mineral powder or loose powder by using a circular motion to buff it onto your skin. Can also be used to apply liquid foundation.
---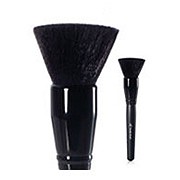 Mineral Powder Brush. Looks similar to a blush brush, but has a flat top. Used to apply mineral foundation using a circular motion.
---

Angled Brush. A firm, angled brush. Used for
filling in eyebrows with brow powder or eye shadow. Can also be used to apply gel eyeliner for a thicker line. Use it to apply a dark brown or charcoal eyeshadow in place of eyeliner for a softer look.
---

Eyebrow Brush & Eyelash comb. Narrow row of long, stiff bristles with a comb on the opposite side. The bristled brush is used to groom or brush eyebrows. The comb is used to remove mascara clumps from eye lashes.
---

Eyeshadow Brush. A small, soft brush with a slightly rounded or angled tip. Used to apply powder and cream eye shadows.
---

Blending Brush. Oval shaped brush. Used to blend eye shadows together after applying with an eye shadow brush for a seamless gradient.
---

Eyeliner Brush. Narrow, pointed tip. Looks like a small paint brush. Used for applying liquid or gel eyeliner.
---

Mascara Brush. Clean, dry mascara wand. Used for brushing out mascara clumps and separating lashes after mascara has been applied with wand in mascara tube. For more info, see post "Mascara: How to be clump free".
---

Contouring Brush. Angled blusher brush. Used for applying a darker blush or contouring powder along the hollow under your cheekbone. Also used for applying bronzer.
---

Blush Brush. Soft, rounded brush, smaller than a powder brush. Used to apply blush to your cheekbones.
---

Lipstick Brush. Small, flat, firm brush with tapered tip, for applying lipstick.
---
Other useful make-up tools:
---
Cosmetic sponge or wedge. Used to apply foundation, but will absorb lots of product. Rather dab the wedge lightly over foundation (if applied with fingers for a foundation brush) to blot any excess. Use to tidy up under eyes after applying eye shadow, eyeliner or mascara. Can also be used to correct blusher mistakes. See post "Beautiful Blusher".
---

Beauty Blender. Similar to a cosmetic sponge or wedge, but teardrop shaped. Use it damp for applying liquid or cream foundation.
---

Eyeshadow applicator. Used for smudging eyeliner. Not recommended for applying eyeshadow, as it absorbs a lot of product and may leave a patchy looking finish.
---

Cotton bud or Q-Tip. For cleaning up smudges or mistakes. Dip into eye make-up remover and use to clean up smudged eyeliner, mistakes or out-of-place lipstick.
---

Powder Puff. Pat powder over concealer on blemishes and problem areas, this will set the concealer. Can be used to apply powder to an oily skin. For more, see post "Powder: Loose or Pressed?" A brush is recommended for all over powder application on the face.
---
Good brushes may be expensive, but if you take good care of them, they can last for many years. If you're looking for a great starter set, check out Real Techniques' Core Collection Set, also be sure to read my next post on "How to clean make-up brushes".
I hope you found this make-up brush guide helpful.