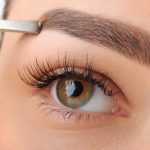 If, like most women, you were born with sparse brows or you simply went on a tweezing spree that left them a little thin, don't worry, fix them by simply filling in your eyebrows. All it takes is eye shadow and an angled brush (or clean mascara brush.  If you don't have one, save one when you're tossing out your old mascara, wash it and keep it in your make-up bag).
Comb out your brows with an eyebrow brush or clean mascara wand. Examine your brows for any thin or bare spots.  Dip an angled brush or a clean mascara wand in some eye shadow that is one shade lighter than your hair colour.  You don't want to darken them too much.  Brush the powder along the brows, using soft, feathery strokes.  This should fill in any gaps you may have and this can be done to define your brows, even if you don't have any gaps.  Your defined brows will help frame your face and finish off your overall make-up look.
If your brows are rather unruly and you want to keep them in place, try a spritz of hairspray on the eyebrow brush before your final styling.
While filling in your eyebrows frames your face nicely, grooming them first goes a long way to help you overall make-up look, too.