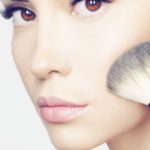 Loose or pressed powder?  Do you know the difference between them? And which one should you be using?
Powders help to set your foundation and concealer, and can be applied with a brush, a puff or sponge, or a combination of the two.  They help absorb to any oils sitting on your skin, reducing shine and creating a matte effect.   Powder applied with a brush will give you an even application, from a light dusting to more full coverage.  A puff is great to use when you want to set concealer on blemishes and problem areas, or for use on oily complexions that require a little more powder to help combat shine and absorb excess oil.
But what is the difference between loose and pressed?  Are they really all that different? Is one better suited to a particular skin type?
Loose powder generally comes in a fairly large tub, and provides more coverage when applied to your skin as it can be applied with either a brush, puff or sponge.  It's lightweight and will give a more natural looking finish without settling caking into creases and fine lines.  It can be applied with a brush for a lighter and more even application, or with a puff to set concealer in areas where high coverage or a more matte appearance is required.  Lightly brush off any excess with a brush after applying with a puff or sponge.
Pressed powders (also known as compact powder) come in smaller, more portable, compact packaging.  Pressed powders are best kept in a handbag or travel bag and used for emergency touch-ups during the day, and are usually applied with a puff or sponge that comes with the compact.  Pressed powder may settle into fine lines and wrinkles more easily than loose, as it it pressed onto the skin during application.  A brush can be used with compact powder, but a sponge or puff usually fits into the packaging, making it easier to travel with.