I've noticed that lately some cosmetic companies have begun referring to the Colour Correctors in their product ranges as "Concealers". Technically, this is correct, as colour correctors do conceal in a way. They are coloured cream concealers that disguise and neutralise any colour-based imperfections on your skin, like dark under eye circles, redness, pigmentation marks, etc., while traditional flesh-toned concealers are used to hide imperfections, blemishes and pimples.
Colour Corrector vs Concealer: What should be used when?
Colour correctors come in four different shades: orange, green, lilac and yellow (or cream). The most commonly used of these four are orange and green. When it comes to using colour correctors and knowing what to use when, it is easiest to keep in mind a colour wheel, think back to basic art classes, and picture the complimentary colours. These are the colours that lie opposite each other on the wheel, for example: red and green, blue and orange, purple and yellow. This will help you to remember which colour corrector is needed to cover which colour imperfection.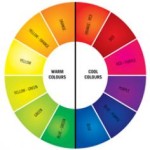 Green colour corrector (or green concealer) is used to neutralise any redness on the skin caused by acne, broken capillaries, rosacea, etc. Orange is used to disguise any blue or grey tones, i.e. under eye circles, blueish coloured bruises, prominent blue veins, etc. Lilac is used to brighten sallow skin and helps counteract yellow undertones and can be used to disguise old (yellow) bruises. Yellow (or cream) can be used to disguise purplish or brown pigmentation marks or used as a highlighter on the cheekbones.
Colour correctors are needed when a regular, flesh-toned concealer doesn't fully disguise a problem area. A colour corrector would be applied first, after moisturiser and primer, but before concealer and foundation. Using your ring finger or a concealer brush, gently pat the corrective colour over the blemish or area that you wish to neutralise. Blend the edges gently into your skin so that there is no visible end to the colour. If necessary, a flesh-toned concealer can gently be applied on top of this before you apply your foundation. Alternatively, you can apply your foundation directly over the colour corrector and then use a flesh-toned concealer for further coverage, if necessary.
The order that you apply your concealer and foundation is completely up to you, but remember that your concealer should be one shade lighter than your foundation in order to correctly disguise your blemishes.
Use light brush strokes or a light touch when applying your concealer and foundation over areas that you've already covered, as you don't want to shift or wipe off any of the colour corrector or concealer. Once your colour corrector, concealer and foundation have all been applied, set these with a light dusting of powder on a large, fluffy powder brush. Too much powder on top of these products can result in your concealer looking cakey and can leave it prone to creasing (especially under the eyes).
For further information on how to apply concealer correctly, please read my previous post "How to apply Concealer".
Instead of using two separate products (colour corrector and concealer), you could always try using a CC Cream under your foundation. To read more see "What is a CC Cream?"