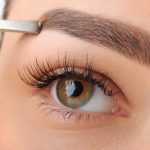 This step-by-step guide will show you how to groom your brows. Before you start, make sure the have the following on hand: an eyebrow brush & eyelash comb (usually on the same brush); two eyeliner pencils (any colour); tweezers and small scissors.
Using the eyebrow brush, brush your brows upwards and outwards. This will allow you to see where your natural arch is.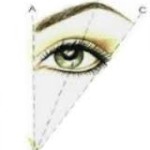 Now hold one of the eyeliner pencils vertically, so that it rests against the edge of your nose and points upwards past the inner corner of your eye (A). With the second eyeliner pencil, make a little mark on your skin, just above your eyebrow, where the first pencil is lying. This is where the eyebrow should start.
Looking straight ahead of you, line up the first eyeliner pencil from the edge of your nose, across the iris (coloured part of your eye) and onto your eyebrow (B). Make another mark above your brow with the second pencil. This is where the highest point of your arch should be.
Lastly, hold the pencil against edge of your nose, lining it up with the outer corner of your eye (C) and make a third mark above your brow. This is where your eyebrow should end.
Using your tweezers (preferably slanted ones), pluck any hairs that lie outside the outer marks (ie: hairs that lie towards the bridge of your nose and ones that go past the outer corner of your eye). Also pluck any stray brows underneath your eyebrow.
If you find plucking painful, stop and apply some ice (wrapped in a cloth) to the area for a few minutes. This will numb the area a little. It is also easier to tweeze after a bath or shower, as the heat will open your pore and the hairs will slide out a little less painfully.
Once you have tidied up the shape of your brows, check if you have long eyebrow hairs. If so, you will need to trim them.

Using the eyebrow brush, brush the hairs upwards towards your forehead. Any hair that sticks up above the natural shape of your brows can be trimmed. Do this by placing the eyelash comb against your brow, to hold the hairs in place. Carefully trim the hairs by using a small pair of ordinary scissors or small eyebrow scissors.
When doing your make-up, fill in any sparse spots with eyeshadow. Read "Filling in your eyebrows" for more information.