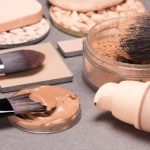 Gel, Mousse, Cream or Liquid foundation. Which one should you use? This all depends on your skin type, personal preference and what kind of coverage you're looking for. Here are the basic differences between them.
Gel foundation gives you an even, sheer base with translucent coverage, so if you're looking for something to cover pigmentation marks or other minor blemishes, this one's not for you. It glides on smoothly and doesn't accentuate lines, but dries quickly so you need to work fast to blend it correctly. Gel foundations are best suited to young, clear skins, making them perfect teens and ladies in their early twenties with fairly blemish-free skins. The odd blemish can still be covered up with a bit of concealer.
Cream-to-powder foundation is quick and easy to apply, giving medium coverage with a powdery finish. It is either a liquid that dries to a powdery finish, or a cream that comes in a compact that dries to a powdery finish. These give medium to full coverage, but they can emphasize fine lines, wrinkles and dry skin.
Mousse foundation (also known as whipped foundation) come either in a pot or a tube and gives medium to full coverage. Mousse foundations glide on smoothly with a matte, powdery finish and a weightless feel and are suitable for all skin types.
Cream foundation gives a velvety look to your complexion with medium to full coverage and an even finish. It comes in a compact and requires a little more blending, but the end result is worth it.
Liquid foundation provides lightweight, natural-looking coverage and is generally a water-based formula with a creamy, liquid consistency. Liquid foundations often contain moisturiser and are great for use on dry or mature skin, but are suitable for all skin types.
If you have oily skin, try using an oil-free or matte foundation. These give an even coverage with no shine and a smooth, matte look, keeping you shine-free for longer.
Personally, I'm not a fan of mousse or whipped foundation. I find that the consistency of the foundation begins to change a few days after opening the pot and by the time I get halfway through the pot (and this is with daily use), it begins to dry out, changing the consistency and making it more difficult to spread evenly and smoothly, even while using a primer under the foundation.
Additional tip: If you have a foundation that you're not happy with (if it's the wrong colour or you don't like the consistency) but don't really want to throw it out, try mixing a little of the foundation with your regular moisturiser to make a tinted moisturiser.
For tips on how to find the correct colour foundation for your skin tone, please read my previous blog "Foundation : finding the perfect shade". If you've already found your perfect shade in one brand, try using the online tool at findation.com to find similar shades from other brands.