There is no right or wrong way when it comes to the tool that you use to apply foundation, it's all about personal preference and what works best for you.
There are however, a few guidelines to follow to ensure that your foundation is smooth, even and perfectly blended with no harsh telltale lines showing where your make-up ends.
Firstly, you'll need to ensure that the foundation you're using matches your skin type and skin tone.  If you're not sure what you should be using for your skin type (dry, combination or oily), read my previous post on the differences between gel, mousse, cream and liquid foundation.  If you're not sure on how to match your foundation to your skin tone (skin colour), read more on how to find the perfect shade.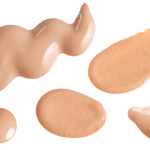 Foundation can be applied using various different methods; cosmetic wedges, Beauty Blenders, foundation brushes or even your fingers.  I find that cosmetic wedges and Beauty Blenders do tend to absorb quite a bit of product, although they will absorb less if they are wet first.  Wetting the sponge does mean a compromise; you'll waste less, but you will end up with a more sheer coverage.  Not so good if you're wanting medium to full coverage.
Wedges and Beauty Blenders do need to be washed frequently as they become a breeding ground for bacteria when not washed often enough. They do tend to stain, will wear out with frequent use and will need to be replaced.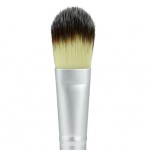 Brushes don't absorb product, although they will retain a slight residue in the bristles and also need to be cleaned frequently.  If looked after correctly, a good brush can last for years before needing to be replaced.
Personally, I find that more watery liquid foundations and some thinner BB creams are easier to apply with the fingers, while thicker liquid foundations, BB creams and cream foundations are easier to apply with a brush.
Before you apply your foundation to your face and neck, cleanse thoroughly, tone and lightly moisturise.  Wait a few minutes before applying a primer and give this a few minutes to settle on the skin before applying your foundation.
How to apply foundation correctly:  Once you're ready, start applying the foundation in the centre of your face; around your nose, the centre of your forehead and chin and then work outwards from these areas towards your hairline, ears, jaw and down onto your neck, blending out towards your collarbone.  This will ensure that most of the product is on the centre of your face and it begins to thin and blend into your natural skin colour where it meets your hairline and collarbone, with no harsh telltale lines.
Finish by setting your base with a light dusting of loose powder on a large, fluffy powder brush.