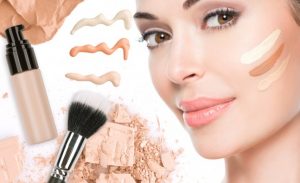 Finding the perfect shade of foundation for your skin type takes time and patience and may eventually lead to frustration, irritability and impulse buys. I'm sure at some time or another we've all bought a foundation that wasn't a perfect skin match, just to get the whole frustrating shopping experience over with. The one problem with impulse buys is that once you get home and try it in the comfort of your own home, you tend to find that it looks completely different to the way it did in the store. To make shopping for a new foundation a little easier, try following these simple steps:
Remove any existing foundation that you may be wearing. Yes, this means going shopping with no foundation on, and take a small hand-held mirror and a make-up remover wipe with you.
Choose three shades of foundation that you feel match your natural skin tone best, and use your finger to apply stripes of each them (you need a fairly wide stripe), starting above your jawbone and going down onto your neck. The stripe should be about 3cm long and a finger width or more wide. Place another set of stripes at the bottom of your neck, so that the strip falls over the base of your neck, collarbone and onto your upper chest. Lastly, place three stripes on a shoulder. This is particularly useful if you tan your body, or use a self-tan product, but don't really tan your face. Your foundation needs to match the rest of your skin, so that you don't end up with a tanned body and pale face.
Now you need to check and see how they look in daylight, as shop lighting can make the foundation and your skin appear a different colour. Go outside, into the open parking lot if you have to, or stand near a window with your mirror (only if the window faces outside and not into the shopping mall, you need natural daylight for this), as one of the colours that may have looked perfect in store could end up being completely wrong in natural daylight, and this is when your foundation is seen most by others around you. Pick the shade that that 'disappears' and fades into your natural skin tone on all three points, or on your collarbone and shoulder if you tan, as this will be the right shade for you.
You may need to go back and try a lighter or darker shade until you find the perfect match, but the first three testers should give you a pretty good idea of what you're looking for and whether you need to go lighter or darker, or choose one with more of a pink or yellow undertone.
It's best to wait a little while before making your final decision, so wipe off any incorrect foundation colours, and lightly blend the edges of the one you think matches your skin best and go do some in-store shopping or browsing, or go have a coffee somewhere, because your skin's acidity can change the final colour of the foundation and you need to give it time to settle and blend with your skin's natural oils before looking at it one last time.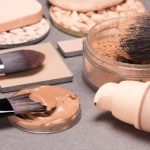 If you're not keen to do this final step in-store, feel free to ask the cosmetic counter if they have tester samples of the colour/s that you wish to try, and do this testing process in the comfort of your own home.
If you've already found your perfect shade in one brand but would like to try a different brand or different consistency, but aren't sure where to start, try using the online tool like the one at findation.com. It'll take what you're currently using, and any other other foundation brands that you may have used in the past, and give you other brand options with similar colour matches.