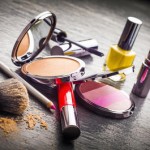 Are you running late and haven't even applied your make-up yet? Here's a step-by-step guide on how to do your make-up in only 5 minutes.
Starting with a cleansed, moisturised face, apply foundation, BB cream or CC cream to your face, using your fingers. You don't have time to play around with a brush! Next apply a lip stain* to your lips and cheeks, before applying a light dusting of translucent powder (this is optional). Add eyeliner and mascara and then fill in your brows with a little eyeshadow using an angled brush. A slick of lip balm or lip gloss over the lip stain adds a little moisture and you're good to go!
* If you don't have a lip stain (like Model Co. Cheek & Lip Tint or Revlon Just Bitten Lip Balm Stain), you can use your favourite lipstick. If you're not keen to apply lipstick to your cheeks, use a powder blush, just remember to apply the translucent powder before your powder blush.
Add a bit of extra colour to your look a little by using either a coloured eyeliner or a coloured mascara.
Turn this 5 minute make-up guide into a slightly more elaborate 10 minutes by applying a light dusting of translucent powder over the foundation or BB cream. Apply a single colour eyeshadow from lash line to crease (blending slightly) before adding eyeliner and mascara. Swap the lip balm or lip gloss for lipliner and lipstick.