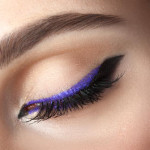 Wearing coloured eyeliner can be tricky and most women avoid it for that reason. A simple rule to remember is that opposites attract, so instead of picking your favourite colour which may not necessarily compliment your eyes, rather choose a complimentary colour.
Complimentary colours are those that lie opposite each other on a colour wheel. Blue eyes will pop with oranges, shades of rust, terra-cotta or even a navy eyeliner; green eyes will look gorgeous with deep purple, dark green, copper or gold eyeliner and brown eyes will look radiant in shades of purples, greens, copper, bronze or gold.
To keep your coloured eyeliner from looking OTT or tacky, keep the rest of your make-up very natural. Go for light, neutral shades of eye shadow with lip balm or a nude lipstick and a faint hint of blush on your cheeks.
Avoid using coloured eyeliner around the whole eye. Rather wear it on the top lid only or underneath the lash line on the bottom lid (apply black eyeliner to your top lid), or to line the outer half of both the top and bottom lids (apply black eyeliner to the inner half of the top lid). Experiment with the thickness of your eyeliner. Try going from thin in the inner corner to thicker at the outer edge, or experiment with graphic lines and cat eyes.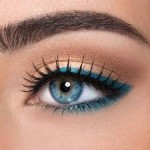 Have some fun experimenting with each style and see what works best for you and your eye shape. For more ideas on how to wear your eyeliner, read "Five ways to wear eyeliner".
Read more about make-up to suit your eye colour here:
"Eyeshadow for brown or black eyes"
"Eyeshadow for green eyes"
"Eyeshadow for blue eyes".