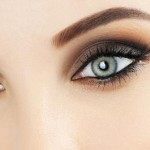 What's the best colour eyeshadow for green eyes? As we all know, complementary colours (colours opposite each other on a colour wheel) create a strong contrast and enhance each other.
Red and green are complementary colours, so any eyeshadow with red (or warm) undertones will really enhance green eyes. To make your gorgeous green eyes pop, try using a deep plum, aubergine, violet, lavender or lilac coloured eye shadow.
Other colours that work well with green eyes are: taupe and brown; charcoal; dark green; deep red; bronze, gold and copper.
Charcoal, chocolate brown or dark brown eyeliner will emphasize your eyes more than a black eyeliner will.
Colours to avoid if you have green eyes: yellow, light to mid grey, orange, silver and cool or blue-toned shades of eyeshadow. Green eyeshadows the same colour as your eyes will make your eyes look dull; try using darker shades or lighter shades to see which greens suit you best.
Not too keen on bright or colourful eyeshadows on your eyelids? Try using a purple, dark green, or copper eyeliner on your eyes instead. See previous make-up tip "How to wear coloured eyeliner" or repurpose your colourful eyeshadows and use them as eyeliner by applying them with a wet brush.