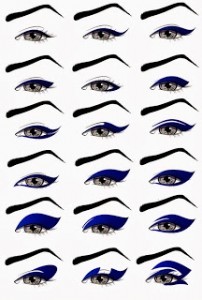 Whether you prefer to use pencil, gel or liquid eyeliner (or all of them), these five ways to wear eyeliner will help you change up your usual look and maybe give you a little inspiration to try something new.
Daytime / Casual: Use a soft pencil eyeliner and simply line the upper lid with a thin line. Try and get as close to your lashes as possible, as this will make them look fuller. If you can, rub the pencil right along the lash line, as this will place the pencil liner between the lashes. For an even softer, fuller look, smudge the pencil liner with an applicator sponge.
For work: Using a liquid liner, create a wide-eyed look by applying a thin V-shape on the outer corners of your eyes. To do this, line the outer half of the top and bottom lids, joining the lines at the outer corner.
Daytime to Evening: Use a liquid liner or gel liner to line the entire upper lid and a pencil liner to line underneath the lashes on the outer half of the lower lid. Be sure to join the two lines in the outer corner. If you have small eyelids, opt for a thin pronounced line on the top lid. Those with larger eyelids can go for either a thicker line or a softer, smudged line.
Evening: Create a more intense look by lining the top lid with a liquid or gel eyeliner and add a little wing or flick. Line the outer half of the bottom lid (under the lashes) with a black pencil liner and add a touch of black pencil to the waterline (the section above the lashes).
Party: Amp up you look with Smokey eyeshadow before applying liquid or gel liner to the top lid and creating a dramatic wing or flick on the outer corner. Line the lower lash line and waterline with black pencil.
If you have small eyes, avoid using black pencil on the waterline as this will make your eyes look even smaller. Rather use black pencil under the lower lash line and line the waterline with a white eyeliner pencil to make your eyes appear bigger.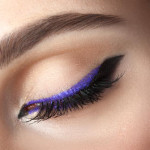 Mix it up a little with a playful twist on all of the above by using a coloured gel eyeliner pencil (like Chi Chi Gel Eyeliners) or pot gel and brush (Maybelline Eye Studio Gel or Bobbi Brown Longwear Gel). Try using gold or copper on blue eyes; a deep plum or violet on green eyes and sapphire blue or forest green on brown eyes.
If you'd like to read more on what colour make-up will best compliment your natural eye colour, see my previous posts: "Eyeshadow for brown or black eyes", "Eyeshadow for green eyes", "Eyeshadow for blue eyes" and "Lipstick for your skin tone"