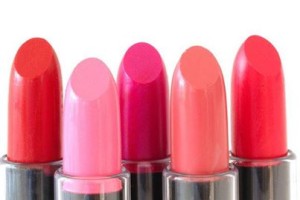 Using the correct colour lipstick for your skin tone can change the overall appearance of your completed make-up look. A lipstick that suits your skin tone can make you appear more attractive and make your teeth look much whiter.
Your natural lip colour is always a good indication of what colour lipstick would suit you best and you can use this 'base' lip colour as a guide and to then go a shade darker or lighter.
For a wider choice of lipstick colours, use the guide below to give you and idea of what to use. If you're not sure of the undertone of your skin, have a look at the veins on the inside of your wrist. If the veins look blue, you probably have a pink undertone and if the veins look green, your undertone is more yellow. Please bear in mind that this is a very rough guideline and there will be some people out there that do fall into both undertone categories.
| SKIN TONE | UNDERTONE | COLOURS TO USE |
| --- | --- | --- |
| Pale | Pink | Pale pink gloss; Lavender pink, Peach, Coral or Nude lipsticks. |
| Pale | Yellow | Apricot, Coral, Fire Engine Red, blue-reds, hot pinks. |
| Medium | Pink | Cerise or hot pinks and pinkish glosses |
| Medium | Yellow | Coral, Golden browns, Berry browns, Rusty reds |
| Olive | Yellow | Clear or true reds and Corals. Most lipstick shades suit this skin tone. |
| Eastern or Oriental | | Salmon pink and clear or true pinks. |
| Dark | Pink | Coral, hot pinks, Blue-reds, Burgundy, Wine, Mulberry and Raspberry. Most colours suit this skin tone. Avoid very pale colours. |
| Dark | Yellow | Orange, Flame Red and Nude glosses. Most colours suit this skin tone. Avoid very pale colours. |
Your skin's undertone will determine which lipstick colours to avoid. If you do wear an incorrect colour, you may find that it'll leave you looking washed out and you'll feel that you make-up doesn't quite look right.
| UNDERTONE | AVOID |
| --- | --- |
| Pink or Cool | blue-based reds and burgundy (with the exception of dark skin), plum and dark browns. |
| Yellow or Warm | Purples and flat brown shades. |
If you have thin lips, bear in mind that darker colours can make your lips look even thinner. Use lighter colours to make your lips appear fuller.
Remember to choose the correct formula of lipstick for your lips. If you find you have lips that dry out quickly, you'll need a moisturising lipstick. For more information on lipstick formulas, read my previous post "Which lipstick consistency to use?"