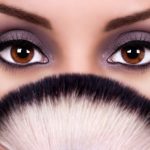 What's the best colour eyeshadow for brown or black eyes? Well, you're lucky as they have no limits and look good in any colour!
Brown eyes don't really have a true complimentary colour, but try a vibrant blue eyeshadow like cobalt or sapphire or even a deep blue for daywear. Purples, pinks, greens, copper and gold will also enhance them. For evening wear, try a metallic silver eyeshadow with a purple eyeliner.
Dark brown: try using plum or mauve; dark green or forest green; gold, bronze or dark brown or even a rich, charcoal grey.
Medium brown: try using different shades of green, violet, copper or bronze. Most colours work well with medium brown eyes.
Light brown: try using light yellow or a champagne brown on your lids to bring out the golden flecks in your eyes. Use a slightly darker shade of the same colour in the crease of your eye.
If you have dark skin with black or brown eyes avoid white, pastel shades and light greys as these colours can make your skin look ashen.
Not too keen on bright or colourful eyeshadows? Try using a Violet, purple, green, copper, bronze, gold or a dark brown eyeliner. See previous make-up tip "How to wear coloured eyeliner".
Instead of going out to buy eyeliners in colours that you don't have, try using your colourful eyeshadows as an eyeliner by applying them with a wet brush.