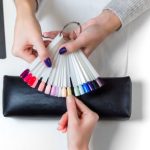 In the same way as certain lipsticks, eyeshadows and other make-up colours suit certain skin tones, the same applies to nail polish shades.
Now, I'm one of those people where anything goes on my nails. I'm not too fussed about what colour I wear or what nail art I have, as I tend to experiment with different ideas on my own nails before offering them to my clients. But, I will say that over the years, I have noticed that certain nail polish colours do look better against my skin tone than others. Some colours make me look really tanned, even though I haven't seen the sun in a while, yet other colours leave my hands looking washed out and pale.
If you want your nails to compliment your natural skin tone, you need to be wearing colours that suit you. These will probably be colours that you're usually naturally drawn to, and are possibly the same colours that you choose for your lipstick or clothing, because you know that they make you look and feel good.
Cool Undertones
If you have fair skin with a cool undertone, you'll find that light and light to medium shades of pink or red, with a blue undertone, will work best on fair skin. Light or medium blues will look better than navy, and silver or gunmetal can be worn, but sheer clear from very dark shades. Avoid golds, yellows, and greens, although a pale mint green may work with your skin tone.
If you have medium skin with a cool undertone, you're one of the lucky ones. Ladies with medium skin tones can wear both warm and cool colours, although pale shades really do compliment your skin better. Try mauve, lavender, rose or light blue. A true red can be really flattering, but avoid black and orange.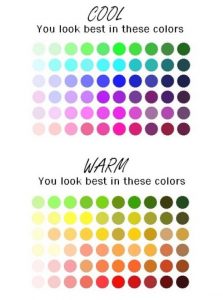 If you have dark skin with a cool undertone, deep, dark colours will give depth to your skin tone. Think of gem or jewel tones like deep purple, plum, ruby red or sapphire blue. Cool gray, navy and bright pink will also look great on you. Yellows, greens, beige, orange, gold and brown should be avoided, as these tend to make darker skin appear dull or washed out.
Warm Undertones
If you have fair skin with a warm undertone, you'll find warm pinks and orange-based reds look great on you. You could also try corals, golden yellows, or beige with a yellow undertone.
If you have medium skin with a warm undertone, the best colour matches for you will be darker colours or bright vibrant shades like purple or bright coral. Shades with obvious yellow undertones, such as gold, copper, caramel and brown will also compliment you well.
If you have dark skin with a warm undertone, you have one of the most versatile skin tones that is flattered by almost any colour. Deep jewel tones like forest greens, rich purples and burgundies will really stand out and look glamourous. Bolder colours like bronze, magenta and fuchsia provide a stunning contrast, as do pastel shades.
I've added a few links to older articles that I've written about make-up to suit different skin tones or eye colours, in case you're interested in reading those:
Lipstick for your skin tone
Eyeshadow shades to suit blue eyes
Eyeshadow shades to suit green eyes
Eyeshadow shades to suit brown or black eyes