How up-to-date is your beauty terminology? Do you know what a cut crease is? What is microdermabrasion? How about strobing or baking? Continue reading to find out what each of these terms mean.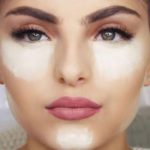 BAKING
A fairly recent term in the beauty terminology world. Forget about making cakes or cookies, in beauty terms, this refers setting your foundation and concealer with a loose powder. To bake means to pat a fairly thick layer of loose translucent powder all over your freshly applied foundation and concealer, and letting it sit on your face for a few minutes. Your natural body heat will set (or bake) it, and then you simply dust off the excess powder to reveal perfectly set make-up.
BRIGHTENING
Not to be confused with lightening. Products that are brightening contain ingredients that temporarily even out skin tone and give you a beautiful glow. Beauty products that claim to lighten skin usually have a permanent bleaching effect.
CHEMICAL EXFOLIATOR
You've probably used physical exfoliators; scrubs that contain rough particles to buff your skin, and while chemical exfoliators may sound terrifying, they're extremely effective at removing dead skin cells without damaging the skin. Typically, they contain acids that penetrate and remove dead skin cells to reveal healthy new skin underneath.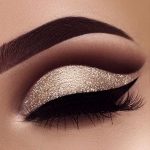 CUT CREASE
A cut crease isn't as scary as it sounds, there are no sharp tools or skin wounds involved. A cut crease is simply when you use a contrasting eyeshadow colour in the crease of your eye, essentially 'cutting' the lighter colour on your eyelid, to create a much bolder, clean edged look.
DERMATOLOGICALLY
Dermatologically tested means that a dermatologist has literally tested the product. This usually includes a tolerance test to see if the products cause any reactions, but does not indicate whether the dermatologist approved of the product, would recommend the product, or whether the product did or did not cause reactions. It just means that it has been tested on human skin.
EPILATOR
An epilator is an electrical device that removes hair from your body with fast rotating sets of tweezers. The tweezer sets are on rollers, and they grasp multiple hairs at the same time before plucking them out by the root. Epilating can be done at home, and the results last longer than shaving. If you buy an epilator and use it often, it works out to be more cost effective than waxing and you don't have to wait four weeks between appointments. Epilating can be done whenever necessary, for constantly smooth skin.
FACE MAPPING
Face mapping is when a beauty therapist takes a close look at your skin under a microscope to determine any problem areas. Notes are made on a sheet of paper, often with a diagram, and this helps them more accurately and effectively treat any issues you may have, and it helps them to recommend the best products for your skin.
HYPOALLERGENIC
Hypoallergenic means that the product is relatively unlikey to cause an allergic reaction. If you have sensitive skin, it's best to still perform a patch test before using a new product.
LIGHTENING
Not to be confused with brightening. Products that are lightening contain ingredients that permanently lighten (or bleach) the skin.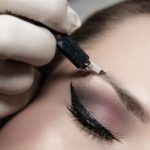 MICROBLADING
Also known as semi-permanent make-up, micro-pigmentation or cosmetic tattooing. Semi-permanent make-up is applied using a tattoo-like technique, to give you the appearance of having fuller brows, fuller lips, or semi-permanent eyeliner. See this article on the pros and cons of microblading for more information.
MICRODERMABRASION
Microdermabrasion is a cosmetic treatment that uses finely ground crystals or diamonds to mechanically exfoliate the outermost layer of the skin. If you'd like to read more about this, head on over to the article Microdermabrasion.
NATURAL
Unfortunately, this is one of the most meaningless beauty terminology terms. Water is a natural substance, and it is included in almost all of your beauty products, usually listed as Aqua. Everything from petroleum to animal excretions are natural as well, but would you really want to put petroleum-based products or animal excretions on your skin? Probaby not! So don't be fooled by products that say they're 'natural', rather look at the ingredients list and choose your products based on what you really want to put on your skin (and into your body).
NON-COMEDOGENIC
Non-comedogenic means that is won't block pores. Comedogenic products are those that block the skin's pores and tend to cause blackheads (comedones). It's better to opt for non-comedogenic products if you have large pores, or are prone to blackheads and breakouts.
SOMBRE
Nope, its not a Mexican fiesta. Sombre refers to a hair colouring technique, and is an abbreviation of subtle ombre, or s-ombre, where your hair gets gradually lighter at the tips. This technique is also known as balayage.
STROBING
There are no flashing lights involved with this one. Strobing is pretty much a fancy way of saying highlighting (and no, not with your stationery, with an actual make-up product.) There is also this article on How to use highlighter for more information.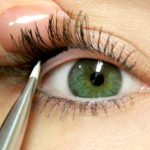 TIGHTLINING
Tightlining creates a 'no make-up' look. By placing the eyeliner in between your eyelashes and on your upper waterline, it looks like you're not wearing any eyeliner and yet your eyes are still accentuated. For step-by-step instructions on how to do this, use this Tightlining link.
That concludes our A-Z of beauty terminology. We hope you learnt something new.