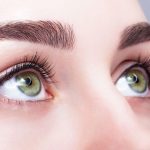 Tightlining was made famous by Kevyn Aucoin and Laura Mercier, and is a technique that has been around since the 1970's.
Considered by some to be quite a tricky make-up technique to master, tightlining means to line the inner rim of your upper eyelid's waterline. This is done by placing the eyeliner in any gaps in between the eyelashes, thereby providing definition and making the lash line look thicker and fuller without the eyeliner being all that visible. It also causes the eye colour to "pop" by creating a striking contrast with the colour of the irises.
If done properly, tightlining will make you look like you're not wearing any eyeliner at all and is great for a 'barely there' or 'no make-up' effect. Your lashes will look thicker and more defined, and your eyes will be accentuated without any eyeliner being visible to someone else who is looking at you.
When I tightline my own eyelids, I prefer to place a portable freestanding mirror on top of my dressing table and angle it so that I'm looking down into the mirror (with my chin angled slightly upwards and eyes looking downwards). This allows me to see my upper waterline and to get my eyeliner pencil in between my lashes without accidentally sticking the pencil in my eye.
Next, I place the index finger of my non-dominant hand (left hand) just under my eyebrow and use it to gently lift my eyelid upwards towards my forehead. This opens my eye a little more and exposes the waterline even further without having to touch any eyeshadow on my eyelid.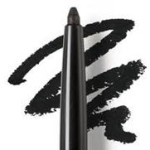 I gently line the area between my lashes with a long-wear eyeliner pencil. A brush loaded with pigment, dark eyeshadow or gel eyeliner can also be used. If you're using pencil eyeliner, use small backward and forward strokes until there is a nice, solid line. If you prefer to use pigment or gel eyeliner, use an angled brush and coat both sides of the brush tip, making sure to wipe off any excess, you don't want it falling into your eye. Hold the brush vertically and then wiggle the tip gently onto the top waterline, moving across your eyelid, wiggling as you go to get the product into any gaps between the lashes.
Personally, I prefer to tightline with a long-wear pencil eyeliner. I find pigment to be messy and sometimes it flicks into my eye, which can be painful and definitely isn't very pretty. It's also difficult to get out without making my eyes run and messing up the rest of my make-up. Gel eyeliner hasn't worked very well for me when tightlining.  I tend to find that it transfers to the bottom lid or under the eyes as the waterlines can be quite wet, especially if you have sensitive eyes or suffer from allergies.
When tightlining, don't line all the way to the inner corner as this can make your eyes look smaller and closer together.  Stop where your eyelashes naturally end, you should only be applying eyeliner between the eyelashes. Once you've finished tightlining, the line shouldn't be all that visible but your eyes should be enhanced and your lashes should look thicker.  Once you've applied mascara, you should definitely see a noticeable difference compared to how your eyelashes usually look.