Microblading, also known as semi-permanent make-up, micro-pigmentation or cosmetic tattooing, is a tattoo that eliminates the need for certain daily make-up items like eyebrow pencil, eyeliner, lip liner or even lipstick and is usually applied to the eyebrows, eyes or lips.
Deciding to have microblading done is not a decision that should be made lightly or in a hurry, as it is basically like getting a tattoo where semi-permanent ink is injected into the skin after a local anaesthetic has been administered.
As this is a cosmetic procedure where a needle is involved, it will hurt, but pain thresholds vary from person to person. Bear in mind that there are always risks of infection, scarring, skin damage or allergic reactions to the semi-permanent ink.
But what are the pros and cons?
| PROS | CONS |
| --- | --- |
| Time saving | Causes scarring and sometimes hair loss (for brows) |
| Can disguise small imperfections | Artist can make a mistake (eg: uneven brows, wobbly eyeliner or lips that look too big) |
| No need to buy certain products | Expensive |
| No streaking or smuding | Colour you choose is semi-permanent and cannot be changed easily |
| | Pigmentation can appear too dark |
| | Colour can migrate due to scarring, discoloration and fading does eventually occur |
If you do choose to have microblading done, think carefully about the colour/s you choose for you eyebrows, eyeliner and lipliner or lipstick, as once it's done, the colour cannot be easily changed. You will need to wait a few years for it to fade before having it done again.
Keep in mind that dark brown eyeliner or charcoal grey is less harsh than black, and is better suited to a more mature women. Consider where you want the eyeliner done; having eyeliner around the whole eye can make your eyes appear smaller. Lining only the upper eyelid, or the outer half of the top and bottom lids, will give you more day-to-day options, and will allow you to change your look by using a pencil or gel eyeliner as well (in places where there is no tattoo).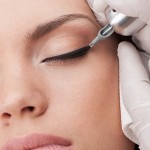 Microblading is hugely traumatic for the skin. A blade is used to create a series of cuts and leaves scars (in the eyebrows, for example) and the scars can cause pigment migration, discoloration and sometime eyebrow hair loss. You will need to give the tattoo time to heal, so what you see immediately after having had it done will look very different to the healed result. You need to give your skin at least three weeks to recover from the trauma of having had a tattoo done. During this time any redness should subside and all swelling should go away. If there's anything that you're unhappy with after everything's healed, go back to the technician that did your tattoo/s and see if it can be adjusted.
Cons aside, microblading can provide a permanent solution for those who suffer from the side effects of certain health or medicinal issues, like those who have lost their eyebrows due to chemotherapy, alopecia or accidental scarring; those who may be allergic to certain ingredients in make-up and women who have had reconstruction work done after a mastectomy and need to have areolas and nipples drawn on.
Please bear in mind that like with any tattoo, sunblock cannot be applied directly over the freshly-tattooed area and direct exposure to sunlight should be avoided for at least three months.
Nothing lasts forever, and this applies to microblading as well. Over time, the tattoo will fade and may need to be refreshed, but this will vary from person to person. Frequent sun exposure can lead to increased fading of the pigmentation in the ink, and this is just another reason to wear a hat and sunscreen on a daily basis.
If you're looking for a more skin-friendly approach to having your eyebrows done, consider looking into getting "powder brows". Powder brows are made using a tiny (single) needle with no cutting, no blood, no pain and no scars. The end result is a much softer, more ombré look and it's much gentler than microblading.