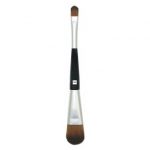 The QVS Foundation Brush that I have is dual ended (I think it's called the Perfection brush), it has a wide, flat foundation brush on one end and a smaller, flat concealer brush on the other.
The soft nylon bristles can be used with both oil or water based make-up and I find that synthetic brushes definitely work better than brushes with natural bristles when it comes to applying foundation, as natural bristles can become clogged with liquid make-up, holding on to it and thereby wasting product. Synthetic bristles don't hold onto product, so you use less and it makes application easier.
I have used my foundation brush with both oil-based and water-based foundation, cream foundation and liquid foundation and I've had no problems with it. It spreads foundation easily and evenly, creating a perfect, flawless base. The dual end eliminates the need for a separate concealer brush and it can also be used for touch-ups or for getting into tighter areas, like around the nose, under the eyes or to conceal small blemishes.
The nylon bristles do need to be washed regularly with warm, soapy water and rinsed before being allowed to air dry. I recently began using Micellar water to clean my brushes and they definitely come clean a lot quicker than when using soap. The Micellar water really does help get rid of all the foundation or concealer really easily, even if it's oil-based.
The QVS Perfection Foundation brush is one of my favourite brushes. It's a professional quality brush that is large enough to do a full face of foundation quickly and easily, while flat enough to have a slim tip that gets into all the tricky places, like around the nose and under the eyes. Depending on how much foundation is used, it doesn't leave brush stripes and can be swirled in a circular motion, if needed.
I would definitely consider purchasing another one of these and would recommend this to anyone looking for a flat foundation brush.
QVS Foundation brushes can be found at selected pharmacies.