Description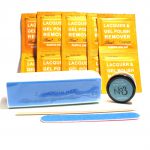 Remove your gel polish safely at home with a Gel Polish Removal Kit (which contains a nail file, buffing block, 10 gel polish removal pads with acetone, an orangewood stick, and a sample of hand cream), and these simple steps.
1. Lightly etch (file) the surface of the gel polish with the nail file, so that it loses some of its shine.
2. Pick up one of the Lacquer & Gel Polish Remover sachets and tear it open across the marked dotted line.
3. Remove the clear tab off the adhesive section on the side of the packaging to reveal the sticky strip.
4. Place your finger inside the pouch with the acetone soaked pad on top of your fingernail.
5. Fold the sticky side of the pouch together, to hold the pouch snugly around your fingertip. (see images below)
4. Repeat with all your fingers.
5. Leave these foil caps on for 7-10 minutes to give the acetone time to dissolve the gel polish bonds. If it's cold, sit on your hands or place them under a warm microwavable heat pack, as warmth will help to loosen the polish, making it easier to remove.
6. Starting with the finger that your first applied the acetone to, carefully slide the pouch off your finger and and gently scrape off the peeling gel polish using the cuticle stick. If the polish doesn't come off easily, don't force it, simply replace the pouch that you've just removed and move onto the next finger. Forcing any stubborn gel polish off your nail will damage your nail plate.
7. Repeat with remaining fingers, removing and replacing the acetone pouches as needed, until all the polish has been soaked off and gently removed.
8. Use the buffing block to remove any last traces of colour, starting with side 2, then side 3 and finally side 4, to buff your nails to a nice shine. Finish by applying hand cream and massage it into the hands, cuticles and nails.

This method can also be used to remove gel polish on toes.
If you absolutely cannot get to a salon for a professional to remove your acrylic enhancements, this same method can be used, although it will need to be soaked for longer (around 20 minutes).  If the acrylic doesn't gently flake off, replace the 'cap' and soak it for a little longer. Don't force any acrylic off, as you will damage your natural nails by tearing off layers of the nail along with the product you're trying to remove. This kind of damage can leave your nails paper-thin and soft, or if it's really stuck, even tear off whole portions of the nail plate and doing permanent damage to your natural nail.  Wherever possible, always get a professional to remove your gel polish, and acrylic or hard gel enhancements.
Please note that PolyGel and Hard Gel overlays and extensions are done with non-soak off products and cannot be removed using the method above for gel polish.  Polygel and Hard Gel overlays or enhancements do need to be carefully removed by a professional.
If you've already purchased a removal pack and still have the nail file, buffer and wooden cuticle stick, I can sell you replacement acetone pads or foil wraps (without acetone) without you needing to purchase an entire removal kit.  See the Gel Polish Removal Pads (with acetone) or the Foil Removal Wraps listings.