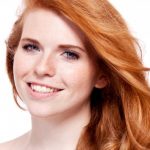 When it comes to make-up, if you are blessed with an abundance of freckles rather embrace them and don't be tempted to cover them up completely with make-up.
Covering freckles completely can lead to your foundation looking unnatural, uneven or cakey and may make your face and neck look completely different from the skin on your chest. It will be difficult to blend in your foundation and you may find that you're left with a "tide mark" where your foundation ends instead of it blending in seamlessly with the rest of your neck and chest.
When purchasing a new foundation be careful not to choose one that is too light or too dark, as this may lead to your skin looking either ashy and pale or much darker than it should be.
The trick is to find a shade of foundation that is a mix between your natural skin colour and the colour of your freckles. This colour will be slightly darker than your natural skin tone but will ensure that your make-up still looks natural, while covering up any lighter freckles and allowing some of the darker ones to naturally shine through. This is important, especially if you have freckles on your chest, shoulders and arms as a completely freckle-free face will look quite unusual against the rest of your body.