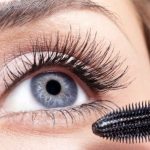 Do you want longer lashes without having to have eyelash extensions done? There are a few tricks for making your natural eyelashes look longer or thicker.
For longer looking lashes, get an eyelash tint. These are relatively inexpensive and can last for up to a month. You can either get this done professionally, or if you feel up to it, at-home kits are available from most pharmacies. Naturally, eyelashes are finer and are often lighter at the tips. I have naturally dark lashes but the very tips are light blonde. Tinting your lashes means that all the fine, light hairs will be darker and more noticeable, including the roots and the very tips, and this gives them the appearance of being fuller and longer.
If you don't like the idea of tinting them, there's a new tinting mascara on the market from Rimmel. It's been around for a few months now and it slightly tints your lashes on a daily basis while you're wearing the mascara. I've heard that this product works best on blonde lashes, so I'm not too sure how it will work on darker ones. I have bought a tube and will try it out soon, so keep checking my blog for my product review.
You could also try using a mascara containing fibres. These act as mini extensions by clinging onto your lashes, making them look longer. I know L'Oreal False Lash Wings Sculpt Mascara contains fibres. Another option is a tubing mascara, it works the same way as a fibre mascara, but creates little tubes around each lash. Blinc has a great one that I've already used and reviewed.
Correct mascara application is also key to getting longer looking lashes. Clumpy mascara tends to make lashes look shorter and fatter. The best way to get clump-free mascara is to do one eye at a time, brushing your lashes with a clean mascara wand between coats. I know it sounds funny, but trust me, it works. To read more on how to get clump-free mascara, see Clumpy mascara? How to be clump free.
Something else you could do to make your lashes look fuller, is to apply a little bit of eyeshadow or eyeliner pencil to your lower lash line. By doing this, you are not lining the waterline (the part above your eyelashes), which will only make your eyes look smaller, instead you will be placing the eyeshadow or eyeliner in between each individual lash, using little dots or dashes. You could also use an angled brush with a little eyeshadow and smudge it along the lower lash line. The same can be done with your upper eyelid. If you're going to apply eyeshadow to the upper lash line, I'd recommend tightlining first (read this article on tightlining).
Lastly, not all mascaras are made the same. If you're unsure whether you should be using a curling mascara, tubing mascara, lengthening mascara, volumising mascara or classic mascara, waterproof, water-resistant or non-waterproof to get the look that you're after, read Which mascara to use to find out which one will work best for you.