Eyeshadows: gels, creams, powders and crayons; they come in a variety of consistencies, and most women often stick to what they know or what they've always used.
Below I've listed a summary of the pros and cons for each, as well as the type of consistency each one has, and which skin types each is best suited to, to help you make the perfect choice when you're buying eyeshadow.
Something else to keep in mind are the formulas. They can be matte, shimmer, metallic or glitter. What you choose to go for in formula is all up to personal preference and what you're wanting to use the eyeshadow for.
Gel
These usually have a shiny or shimmery finish and come with a brush for easy application. They may gather in the crease and some may feel gloss-like and sticky. Great for Teens with young, smooth skin or normal to dry skin types.
Cream
A creamy consistency that glides onto your skin.  May be waterproof. Creams can fade or travel into the crease. Suits normal, dry and mature skins.  Cream eyeshadows can also be used in place of an eyeshadow primer – simply apply a thin layer of cream eyeshadow over the eyelid, and then apply your powder eyeshadow on top.  This will help prevent your eyeshadows from creasing, and will also give you a better finish, with a more pigmented (colourful) finish.
Powder eyeshadow:  Pressed
Comes in a variety of colours in matte, shimmer, metallic, pearl or velvet. Long lasting colour that is easy to control the intensity and layering of. Suits all skin types.  Matte finish is good for mature skins.
Powder eyeshadow:  Loose (also called pigment)
Usually comes in small pots with a matte, shimmer or glitter finish, and is often called a 'pigment'. They can be messy, but are good for bold colour. Suits all skin types, especially teens or younger skins and are great for special occasions.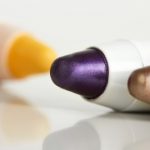 Crayon
Concentrated colour. Very easy and quick to use, but if the crayon is not very soft, it may be difficult to blend.  Great for when you're in a hurry and don't have time to blend powder shadow. Suitable for all skin types.
When it comes to choosing what colour to wear, this will all depend on your skin tone and eye colour. Find out more in these articles: Eyeshadow for green or hazel eyes, Eyeshadow for blue or grey eyes, Eyeshadow for brown or black eyes.