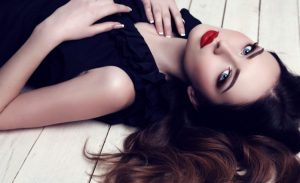 Wearing red lipstick can seem daunting, but it all comes down to pairing it with the right eyeshadow and using a few simple but key make-up application techniques to get this look right.
Firstly, ensure that your foundation is well blended. This means applying it to your face and then using a brush or cosmetic wedge to really blend the edges into your hairline and across your jaw, down onto your neck, so that there are no visible "tide" lines where your foundation ends. When you've applied your blush, do the same. Take a fluffy powder brush or a cosmetic wedge and blend out the edges so that your blush fades seamlessly into your foundation.
When selecting your eyeshadow shades, remember the golden rule of choosing one feature to accentuate. This doesn't mean that you have to use a completely nude eyeshadow palette when you're wearing red lipstick, but don't let your eyes and lips compete with each other for attention. If you want to go with a grey smokey eye, do it, but maybe tone it down a little so that it's not as dramatic as it could be.
If you're not sure about what colour eyeshadow to wear, opt for neutral shades, or pick one shade, for example a silvery grey or bronze, and sweep it across your eyelid area before smudging a darker grey or brown along your lash line. Just remember to blend, blend and blend some more. There should be no harsh lines where your eyeshadow ends, and colours should blend seamlessly into one another, with the outer edges fading away into your foundation.
Play around with eyeliner for different variations on the look. Try a simple winged eyeliner for a vintage feel, or pair your winged eyeliner with smudged liner or eyeshadow on the bottom lash line, or try out some of these different eyeliner styles. There is no right or wrong way, so don't be scared to play around with your make-up to find what works best for you.