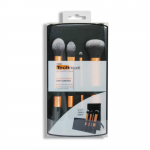 I needed a few new brushes as my powder and blush brushes were looking tired and worn and my foundation brush was losing bristles, but I didn't need a full set as the rest of my brushes are fine. I did a bit of research and the Real Techniques Core Collection brush set looked like it would fit my needs.
I'd read few a wonderful reviews about Real Techniques brushes and since the Core Collection contains a contour brush, pointed foundation brush, detailer brush and buffing brush, it seemed like the best fit for me. These four brushes are packaged in a panoramic case that converts from a carry case to a stand that keeps brushes in tip-top condition and can also be used for drying them upside down so that the glue in the ferrule doesn't soften, causing bristles to fall out (the ferrule is the metal bit that covers the part where the bristles are fixed to the handle).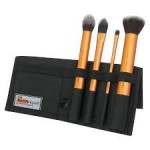 My plan was to use the contour brush as a blush brush, the detailer brush for concealer or lipstick, the buffing brush to apply powder and the foundation brush for foundation. All of these worked well for me, with the exception of the foundation brush. I found it far too small to use for full face foundation and ended up purchasing a separate, single, flat-topped foundation brush (from a different brand). I now use the Real Techniques pointed foundation brush to blend out concealer under my eyes and it works perfectly for that.
These brushes are really good quality; they have sturdy handles, soft bristles and I haven't experienced any shedding other than one or two bristles on the first use, which is normal for a new brush. I use the buffing brush the most as it really does apply powder nicely and sets my foundation well, with an almost airbrushed finish.
I'd definitely purchase these brushes again and I'd like to eventually replace all my brushes with Real Techniques brushes, as and when they need to be replaced. I'll definitely be recommending these to others, as I feel they're great value for money, especially if you can find them when they're on sale.
Real Techniques brushes are available from Farmers and selected stockists.