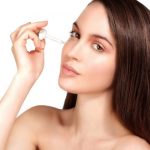 Did you know? Facial Oils can not only be used as a serum to moisturise the skin, but they make really good cleansers, too. Oil is exceptionally effective at dissolving other oils, and is good for softening and lifting dirt and impurities (like stubborn blackheads).
There are a number of pre-mixed cleansing facial oils available, like Lipidol Cleansing Face Oil, The Body Shop Camomile Silky Face Oil or Palmers Facial Cleansing Oil, to name a few, or you could always mix your own using the Oil Cleansing Method, to suit your skin type. The Oil Cleansing Method uses castor oil and sunflower seed oil (or sweet almond oil or Jojoba) mixed in specific ratios according to your relevant skin type.
To use a facial oil as a cleanser, it needs to be applied to dry skin, there's no need to remove your make-up first as oil cleanser will do this, too. Pour a teaspoon of oil into the palm of one hand and gently rub your hands together to warm the oil before massaging it onto your face.
Gently massage the oil all over your face, making sure to work it into the corners around your nose, over your lips and across your eyebrows and eyelashes. It will soften and lift any make-up, dirt and impurities.
If you're using a facial oil that emulsifies with water, add a small amount of water and continue massaging to emulsify the oil before rinsing it away. If you're using a non-emulsifying oil, remove it with either damp cotton wool or a warm face cloth, making sure to rinse the face cloth out well after use. My personal favorite was the Lipidol one, but it's no longer available in New Zealand, so I switched to using the Palmers brand (it emulsifies better than The Body Shop's one).
Facial oils also come in the form of serums, which make great moisturisers (even on oily skin like mine). A facial oil serum can be used under your day cream or night cream to give your skin an added moisture boost, or it can completely replace your night cream depending on your personal preference.
A few serums that I have tried are: Oasis Beauty's On The Rocks serum, Oasis Beauty's Straight Up serum, Essano Rosehip Oil and Linden Leaves Miraculous Facial Oil.