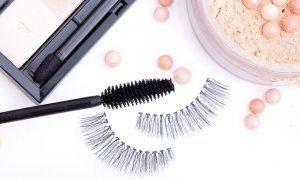 Does your make-up melt? If you live or work in hot, humid conditions, you may find that your make-up starts to melt before the day is done. But what can you do to prevent this from happening?
The key to having make-up that looks great after the first application is to apply very thin layers of product, preferably ones with a long-lasting formulation.
After cleansing, toning and moisturising lightly, begin with a thin layer of sunscreen and really blend this into your skin. If possible, try to find a matte finish sunscreen like Eucerin Sun Fluid or Neutrogena Dry Touch Sunscreen.  A matte finish sunscreen will have a non-greasy texture and won't make your make-up slip.  Bear in mind that the more layers of product you use, the more chance you have of your make-up starting to melt or slip during the day.
Choose a foundation with a long-lasting formula designed for your skin type (dry, combination or oily), as these tend to set nicely when they dry, and powder would then be optional. Apply a very thin layer of foundation, blending it well and slowly build up the coverage only in areas where you need more. If necessary, apply a small amount of concealer to problem areas. Apply a very light dusting of powder if you have a very oily skin, but depending on the type of long-lasting foundation that you use, you may not need powder at all (or only a little on the T-zone).  Excess powder and perspiration can lead to white marks on the face, especially around the nose, chin and upper lip
When applying eye shadow, opt for long-lasting formulas or cream and gel formulations, as these do tend set once dry. Line your eyelashes with waterproof eyeliner before applying waterproof mascara or a tubing water-resistant mascara. Eyebrows can be defined and filled in with a waterproof brow pen or brow gel.
Waterproof cream blusher will provide a healthy glow to your skin and bronzer is optional. To ensure all day lip colour, stain your lips first before applying lipstick. Lips can be stained with a long-lasting formula lipstick, a lip stain or a long-lasting lip pencil. As lip stains can leave your lips feeling a little on the dry side, apply a moisturising lipstick or lip balm on top or try Revlon Just Bitten Lip Balm Stains, a two-in-one balm and stain. You may need to touch-up the balm during the day, for added moisture, but the stain will ensure that the colour remains on your lips all day.
If you don't have waterproof products in your make-up kit and don't want to go out and purchase a whole new set of make-up, try using a mattifying primer under your foundation, a setting or fixing spray to set your make-up once done and blotting paper to absorb any excess oil or shine during the day without smearing or smudging your make-up.