Have you tried using a make-up primer under your foundation to help minimize fine lines and large pores, and to provide a smooth canvas for flawless looking make-up?
Make-up primers assist in helping your foundation to spread more smoothly and evenly, they fill in any large pores and fine lines before your foundation is applied, providing the perfect 'canvas' for the rest of your make-up. Primers instantly reduce the appearance of pores and fine lines and they help mattify the skin, keeping it shine free and looking flawless for longer. You may even find that you end up using a little less foundation with the same amount of coverage as before, saving you both product and money!
Primer should be applied after moisturiser and sunscreen, but before concealer and foundation. It is best to wait a few minutes for each of the products to sink in, so apply your moisturiser and sunscreen after washing your face. Maybe go have breakfast or a cup of tea or coffee, and then apply the primer. Wait a few more minutes for the primer to settle before applying your foundation and the rest of your make-up.
If you're looking for affordable budget-friendly products, Yardley has a Line Minimizer Primer and Palladio has a slightly larger tube of primer for around the same price, although as far as I am aware, Palladio is only available at Dis-Chem (in South Africa), although it can be ordered online. A few more great, affordable primers are Innoxa Pure Silk Skin Primer and Rimmel Fix & Perfect Pro Primer and NYX Shine Killer.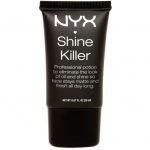 There are a variety of different primers out there, including ones made specifically for the eyes and lips (these will help prevent eyeshadow from creasing and lipstick from fading), but if you're looking to minimize pores and fine lines on your face, be sure to try a silicone-based primer if you're not allergic to silicone.
As always, I would advise you to patch test a new product before using it, especially if have sensitive skin and you're unsure whether it would cause an allergic reaction or not. The best place to do this is either behind an ear, inside the elbow, or on the inside of the wrist. Leave the product on overnight and see how your skin reacts.