How good is your nail terminology? If you have your nails done by a professional, or you use nail care products, you may have heard a few of these words, but do you know what they mean?
ACRYLIC
Known by nail technicians as Liquid and Powder (because all nail enhancements, including gel polish, are a form of acrylic). Liquid and Powder acrylic is an older nail product that has been around since the 1970's. It's come a long way since then, but is basically a liquid monomer that is mixed with a powdered acrylate to form an acrylic nail enhancement. It adds length and strength to your natural nails, and can be moulded into various shapes and lengths. Click here to see the differences between acrylic, hard gel and PolyGel.
ARTISTIC COLOUR GLOSS
Artistic Colour Gloss (or ACG) is a brand of GEL POLISH by Artistic Nail Design. It's designed to last around 21 days on fingernails, and on toes is lasts four to six weeks.
CUTICLE
The eponychium sheds thin, colourless layers of skin cells as the nail grows out, and it's these loose thin cells that stick to the nail plate that are the true cuticle (not the eponychium). During a manicure, your nail technician will remove this layer of transparent skin cells, to improve the adhesion of your polish or enhancement to your nail. See EPONYCHIUM for more info, or read the article on Nail Anatomy to see pictures of where everything is.
DISTAL EDGE
See FREE EDGE.
DISTAL PHALANX
Distal phalanges are the little bones that form your fingertips. They support the flesh of the fingertip.
EPIDERMIS
The epidermis is the outer most layer of your skin. It's the part that you can see and feel on your fingers.
EPONYCHIUM
The eponychium is often what most people call their cuticle, yet it is not the true cuticle. It's actually a part of the proximal nail fold, and its purpose is to form a seal between your nail plate and the proximal nail fold to prevent bacteria and dirt from entering your body. If the eponychium's seal is broken, lifted, cut or removed completely, this can expose you to bacteria, which could in turn lead to an infection. Never let anyone "cut your cuticles", and don't be tempted to pick this skin off either. If it's dry, rather treat the dryness with a cuticle oil or nourishing hand cream. See CUTICLE for more, or read the article on Nail Anatomy to see pictures of where everything is.
EXTENSIONS or ENHANCEMENTS
See NAIL EXTENSIONS or ENHANCEMENTS.
FORMS
Forms are a foil-like sticker that nail technicians use instead of plastic glue-on tips. A nail extension or enhancement is then built or sculpted in one piece over the form before it is removed. Extensions that are built over forms are stronger than extensions done over a glue-on tip.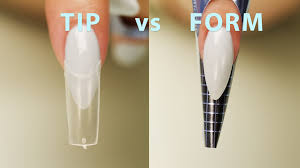 FREE EDGE
Also known as the DISTAL EDGE. It's the part of your nail plate that grows out above the tip of your finger. It is "free" and not still attached to the nail bed.
GELISH
Gelish is a brand of hybrid GEL POLISH.
GEL POLISH
Gel polish is basically a premixed, coloured, liquid form of acrylic that is applied over the natural nails. It's applied much like traditional nail polish before being cured under a UV or LED lamp. True gel polishes last about three weeks (21 days) on the nail, while hybrid gel polishes last up to 14 days. Gel polish is a soft gel, meaning that it can be soaked off, unlike HARD GEL.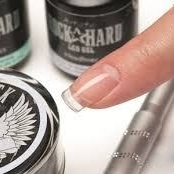 HARD GEL
Hard Gel has a thick honey-like consistency and usually comes in a jar. It's applied with a brush, and is used to sculpt nails in the same way as liquid and powder acrylic, and is more flexible than liquid and powder acrylic and feels lighter. Hard Gel should not be confused with GEL POLISH, as Hard Gel cannot be soaked off, it has to be filed down.
Click here to see the differences between acrylic, hard gel and PolyGel.
HYPONYCHIUM
This is the thickened layer of epidermis (skin) that lies right at the tip of your finger, snuggled up against the underside of your nail plate. The FREE EDGE starts where the hyponychium ends. Read the article on Nail Anatomy to see pictures of where everything is.
IBX TREATMENT
IBX Treatment is a hydroxypropyl methacrylate (HPMA) solution that is safe for use on natural nails when it is applied correctly (according to manufacturers instructions and avoiding skin contact) and fully polymerized in a LED or UV lamp during the client's appointment. To read more about IBX Treatment and what it can do for you, click here.
LACQUER
See TRADITIONAL NAIL POLISH.
LATERAL NAIL FOLDS
The lateral nail folds are the ends of the fleshy side parts of your finger that surround the sides of each nail. They are extensions of the PROXIMAL NAIL FOLD, and they protect the sides of your nail from trauma and bacterial infection.
LENGTH
Nail length is all about personal preference, hobbies and lifestyle. Your natural nails can be artificially extended with nail extensions to make them longer, but you still need to consider your lifestyle and day-to-day activities when deciding on the length you want.
– Active length is when the FREE EDGE is usually about a quarter to one half the length of your natural NAIL PLATE. This is the most wearable length for normal day-to-day activities.
– Fashion lengths are usually very long (much more then half the length of your nail plate), and are not practical for day-to-day wear.
The longer the extension, the more pressure it puts on your natural nail plate and the more risk you have of damaging to your natural nail.
LUNULA
The lunula is the half moon that appears at the base of the nail. Not all nails have a visible lunula; they are often hidden underneath the EPONYCHIUM. Lunula's are usually most noticeable on the thumbs and big toes.
MATRIX
The matrix is also known as the matrix bed or the nail root. This is where the nail is formed, and where the NAIL PLATE grows out from. Damage caused by trauma to the matrix is permanent and irreversible, and will often result in the nail plate growing out with white spots (from bumping the matrix), or deep grooves (from permanent matrix damage).
METHACRYLATE
Methacrylates are small monomers (particles) found in gel polish, hard gel, PolyGel, acrylic and other nail products. See MONOMER below for more info.
MONOMER
Monomers are individual particles that join together to create a chain (forming a polymer) during the curing process in a LED or UV lamp. If these monomers are not polymerized properly, they can cause sensitivity and reactions to the product/s used. This is why nail technicians are trained to apply and cure products in the correct manner; by avoiding contact with the skin and correctly curing products according to the manufacturers specifications, for a specific period of time in a LED or UV lamp.
Monomer is also another name for the liquid component of Liquid and Powder (acrylic) nails. It's the liquid monomer that bonds with the powdered acrylate to from a solid acrylic nail enhancement.
NAIL BED
The nail bed is the layer of skin beneath the nail plate. It's this layer that nourishes the nail plate and provides it with everything it needs (oxygen, blood supply, nutrients, etc).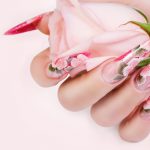 NAIL EXTENSIONS or ENHANCEMENTS
Nail extensions are sculpted out of hard gel, PolyGel or acrylic, and add length and strength to your natural nails. See SCULPTURED OR SCULPTED. Nail Enhancements include gel polish, and hard gel, PolyGel or acrylic overlays. These do not add length, but do provide your natural nails with a little more support and strength.
NAIL PLATE
The nail plate is the part of your nail that you can see, feel, touch and often apply nail polish to. It is made up of the same keratin cells as your hair.
NAIL POLISH
This refers to GEL POLISH or TRADITIONAL NAIL POLISH.
NAIL REPAIR
See SCULPTURED OR SCULPTED.
OVERLAY
An overlay is done with gel polish, hard gel, PolyGel or acrylic, and is applied over your natural nail without adding any length.
POLYGEL
PolyGel is the 'new kid on the block' when it comes to nail enhancements. It's a hybrid between acrylic and hard gel, is up to 25% lighter to wear than acrylic, and yet it is still as strong as acrylic. It's a premixed product with a thick gel-paste consistency that doesn't run or flood, and there's not smelly liquid monomer smell that is associated with Liquid & Powder (acrylic) enhancements. Click here to see the differences between acrylic, hard gel and PolyGel.
PROXIMAL NAIL FOLD
The proximal nail fold is the end of the fleshy part of your finger at the base of your nail. This fold of soft tissue protects the delicate new cells of the emerging nail plate, as your nail grows out.
SCULPTURED or SCULPTED
When a nail enhancement is sculptured (or sculpted), your nail technician will use a foil-like sticker called a form to build a longer, stronger nail out of hard gel, PolyGel or acrylic. Sculpting a nail in this way is stronger than using TIPS, as the enhancement is all one piece, and there is no weak spot, like where the tip is glued onto the nail. If the tip adhesive comes loose, it could compromise the strength of the enhancement.
If you break one of your natural nails, a sculptured enhancement on that finger is a great way to still have all your nails one length and shape. A single sculptured enhancement is referred to as a nail repair.
SHAPE
Natural nail shapes are usually round, oval, square or squoval. Nail Extensions can be shaped into more exotic shapes like almond, stiletto, ballerina or coffin, edge, etc. Click here for more info on nail shapes and which are the strongest, etc.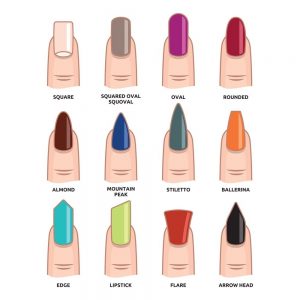 SHELLAC
Shellac is a brand of hybrid GEL POLISH. It is not a true gel polish, and is not a specific nail service. Shellac will give you about 14 days wear before it needs to be replaced.
TIPS
Tips are plastic nail enhancements that are glued onto your natural nail. They are an alternative to using FORMS, and become a base for hard gel, PolyGel or acrylic extensions to be built up on. See SCULPTURED OR SCULPTED for more info.
TRADITIONAL NAIL POLISH
Also known as lacquer. Traditional nail polish is applied to the nail plate, using thin layers, and left to air dry between coats. Formulas have come a long way in recent years, so you shouldn't have chipped polish on the second day. Depending on your lifestyle and activities, you could get around seven days of wear from a good quality nail polish.