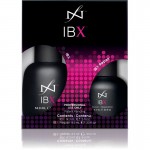 IBX by Famous Names is a revolutionary two part system that can be used to repair severe nail damage. Unlike paint-on nail strengtheners that sit on top of the nail, IBX penetrates into the nail plate to create a protective shield inside the nail.
IBX can be used under gel polish or nail enhancement services (hard gel or acrylic) or on its own over natural nails to help them grow.
IBX can be used to:
– treat thin, weak, damaged nails
– repair delaminated and peeling free edges
– toughen natural nails, helping them to grow
– improve the colour and appearance of natural nails
– can be used as a protective shield under gel polish or nail enhancements
IBX treatments will vary from person to person, with severely damaged nails requiring three layers of IBX during the first consultation. Nails on the road to recovery will only require two layers of IBX and ongoing "maintenance mode" consists of only one layer of IBX.
Frequency of application also depends on the severity of the damage. Damaged nails may need to be treated every two weeks, while strengthening or maintenance treatments only need to be done once every three weeks.
Cost will vary depending on the number of layers required during your treatment. Current price lists can be found on my website.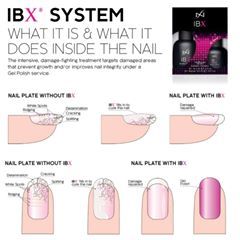 Below is a collage of photos that I took over four months, while repairing a client's nail with IBX treatment. When she first came in, the free edge on her middle finger had an open v-shaped split and a crack was starting to form down the length of the nail plate. As we had caught it early enough and her nail bed wasn't exposed, I was able to use IBX to create a protective shield within her nail to help repair the nail and prevent the nail plate from splitting further. After the IBX was applied at each treatment (and a photograph taken), a clear layer of protective gel was applied to the nail before I filed her nails short to prevent any snagging and tearing of the damaged nail.
The before and after photos speak for themselves. IBX really does work!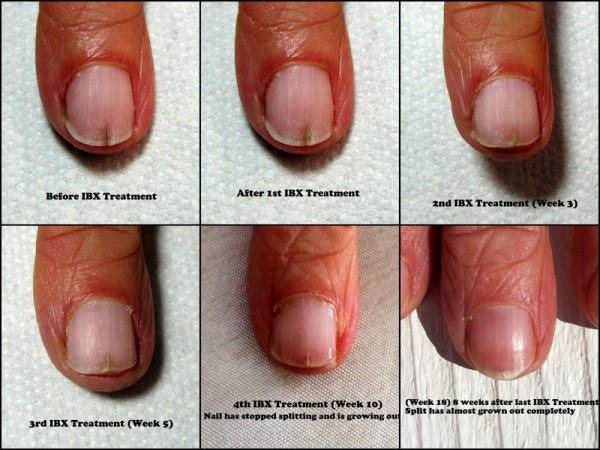 A little additional information for those who are worried about the ingredients in IBX Treatment, and whether or not a hydroxypropyl methacrylate (HPMA) solution is safe for use on the nails. The ingredients in IBX are as follows:
IBX Repair: Hydroxypropyl Methacrylate, Glyceryl Dimethacrylate Pyromellitate, Triethyleneglycol Dimethacrylate, Photoinitiator blend.
IBX: Hydroxypropyl Methacrylate, Isobornyl Methacrylate, Ethyl Acetate, Glyceryl Dimethacrylate Pyromellitate, Cellulose Acetate Butyrate, Persea Gratissima (Avocado) Oil, Simmondsia Chinensis (Jojoba) Seed Oil, CI 60725 (Violet 2).
Methacrylates are small monomers found in gel polish and other nail products. It's these little monomers that join together to create a chain to form a polymer during the curing process in a LED or UV lamp. If these monomers are not polymerized properly, they can cause sensitivity and reactions to the product/s. This is why nail technicians are trained to apply and cure products in the correct manner; by avoiding contact with the skin and curing the products according to the manufacturers specifications, for the correct period of time in a LED or UV lamp.
IBX Treatment is safe to use on the nails, as care is taken not to get the product on the skin, and the monomers are fully polymerized in a LED or UV lamp during the client's appointment. IBX Treatment would only be unsafe if a nail technician assumed that this treatment was to be used like a store bought paint-on nail strengthener, and proceeded to use it like a traditional nail polish, skipping the curing process in a lamp, and not following the manufacturers instructions for use.