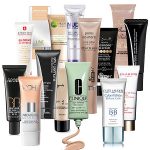 BB Cream, Beauty Balm or Blemish Balm, whichever you choose to call it, I feel it should be a must in any busy woman's make-up bag.
Depending on the type of BB Cream you have (they differ from brand to brand), coverage will range from very light to medium. The difference between a BB Cream and a tinted moisturiser is that BB Creams even out the skin tone a little more, and create a bit more depth, without being 'heavy' like regular foundation.
BB Creams have many other added benefits, such as a built-in primer, anti-ageing serum, anti-inflammatory, sunscreen, the ability to even skin tone, oil control, ability to blur fine lines, and may even help minimise the appearance of pores. Depending on which brand you buy, these added benefits will vary, but generally all BB Creams claim to even out skin tone, moisturise, correct blemishes, brighten your complexion, and most contain an SPF.
As I have a few pigmentation marks on my face, the first BB Cream I ever tried was Garnier's Miracle Skin Perfector Daily All-in-One BB Cream (this was back in 2012).
I wasn't expecting much, as being an all-in-one I knew it would give me very light coverage, and I was happy with the end result.
This BB Cream did even out my skin tone and disguise the pigmentation marks, but it did not hide them completely like foundation would. It evened them out enough for me not to worry about looking "patchy". It also covered up the odd blemish, leaving me with a much more radiant looking complexion and a barely there "not wearing make-up" look, which is great for days when you don't really want to be wearing a full face of make-up (going to the beach, etc.), but still want to feel confident and comfortable in your own skin.
BB Creams are great if you don't like the feel of medium to full coverage foundation on your skin, or if you don't have time to apply a full face of make-up every day, as this all-in-one product would simply replace your moisturiser, sunscreen and foundation in the mornings. One step, and you're done!
You may need to experiment a little to find the perfect amount to use for your skin type, as I found the excess product made my skin look rather shiny (a light dusting of loose powder does fix this). The amount needed also varies from brand to brand, but after a few days of trial and error, you'll get the hang of it. Usually around a small pea-sized amount is ample to cover both face and neck.
I've used three different BB Creams in the past. To read my full reviews on each, simply click on the relevant product name below: