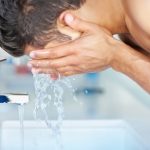 How many men out there actually take care of their skin and follow a good daily skincare routine?
These days, there are many great skincare ranges on the market designed specifically for men.  To keep your skin looking its best, you should be cleansing your skin twice daily (morning and evening), applying moisturiser, preferably one with an SPF and exfoliating once a week with an exfoliating facial scrub to get rid of any loose, dry skin.  This will help give your skin a more youthful appearance, just remember to always be gentle with your skin and use a light circular motion to apply the exfoliator, do not rub. Don't forget to moisturise after exfoliating!
When it comes to men and make-up, there is nothing wrong with using subtle products to cover blemishes or under eye circles. Keep in mind that men's skin tends to be thicker and rougher than women's, so products with a thicker consistency will be more noticeable when applied to the skin.
Instead of concealing blemishes and dark shadows under the eyes with tradional concealer, which is quite thick and can be rather noticable, try using a little BB cream or CC cream. If you feel that using a concealer brush is too feminine, gently pat a little of the cream onto the problem area (after moisturising) with the tip of your ring finger. The ring finger exerts the least amount of pressure and won't tug or pull at the delicate skin around the eyes.
If you have oily skin, a light dusting of translucent powder can be applied to the whole face or just the T-zone (forehead, nose and chin) to control shine. Sorry guys, you'll have to use a brush for this one! Alternatively, blotting paper can be used throughout the day to control shine.
Lip balm is a must to keep your lips soft and moisturised. And yes, there is a difference between lip balm and lip gloss! Lip balms tend to come in tubes or tubs and moisturise the lips without adding any shine or colour. Try to avoid using your girlfriend's or wife's shiny or tinted lip gloss!
Cleanse and moisturise your face again at night and apply an eye cream to help reduce the appearance of fine lines and wrinkles often caused by sun damage.
For a list of skincare ranges for men, please visit my previous post "Skincare Products for Men".