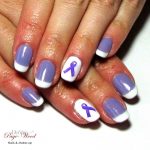 November is usually associated with Movember and the celebration of the mustache, but it's also an awareness month for two causes very close to my heart. It's Pancreatic Cancer Awareness month, as well as Preemie Awareness month (premature babies). I lost my Mom to pancreatic cancer 10 years ago, and not only do I have a twin niece and nephew who were born premature, but I was a preemie myself. Both causes, coincidentally, are supported by wearing a purple ribbon.
For this simple purple and white French manicure, you'll need:
* Nail polish remover
* lint-free wipes or cotton pads
* an orangewood cuticle stick or metal cuticle pusher
* 180-grit buffer or a buffing block (the ones with 4 different sides)
* a 180-grit nail file
* base coat
* pastel purple and white nail polish
* top coat
* a mini striping brush (small paintbrush or clean eyeliner brush)
* ribbon decals, stickers or a stamping plate
* cuticle oil and hand cream
Start off by prepping your nails; remove any old polish, push back your cuticles, file your nails into the desired shape and then buff them lightly with the buffer.
Cleanse your nails again with nail polish remover to remove any nail dust and natural oils that will have come to the surface of the nail. Apply a thin layer of base coat and cure it according to the instructions for your lamp (UV or LED for gel polish) or wait for it to dry (for traditional polish/lacquer).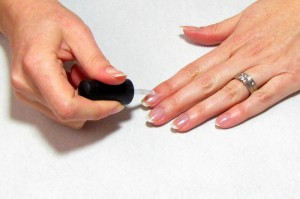 Apply a thin coat of pale purple polish to four of your nails, with white on the ring finger, making sure to cap the free edge. Cure or wait for it to dry.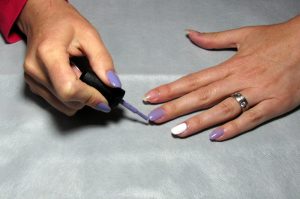 Apply a second, thin coat of polish and cure or wait for it to dry.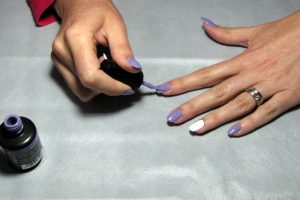 Paint white French tips on each of the purple nails (you can use a mini striper brush, small paintbrush or clean eyeliner brush to do this, if you're not confident free-handing them using the brush from the nail polish bottle).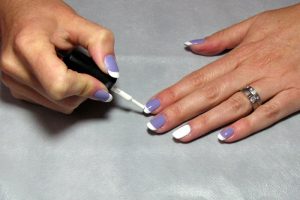 On the white feature nail, paint your ribbon shape in purple using the small brush, or use a water decal, sticker or stamping plate. Cure or wait for the polish to dry, depending on which type of polish you're using.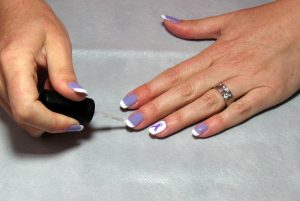 Apply your top coat and cure or wait for it to dry. Finish off your manicure by rubbing cuticle oil onto your nails, cuticles and skin around your nails. Cuticle oil applied daily will nourish your nails and help your polish to last longer by keeping it moisturized and flexible. Apply a nourishing hand cream and you're all done.