What is the difference between a manicurist, nail technician and podiatrist? Are they different? Why can't you do what a podiatrist does? These are some of the many questions I have been asked over the years.
So, what is the difference? Well, a manicurist works with your natural nails. They don't repair broken nails and they don't offer extensions or enhancements. A manicure or pedicure with a manicurist will usually consist of a cuticle tidy and shaping the nail. Depending on whether or not the salon/manicurist provides wet services, it may begin with a soak or an exfoliating scrub. After the cuticle tidy and nail shape, your natural nails may be buffed to a high shine or you may be given the choice of a nail lacquer or traditional nail polish (like the kind you buy from a store. It's nail polish that can be easily removed at home with nail polish remover).
Some manicurists do offer gel polish or Shellac, but just make sure if they're offering this service that they have the necessary qualifications and training, and understand the chemistry behind these products. I chatted to a manicurist a while back, who openly admitted that she offers gel polish to her clients, yet has not had the relevant training and admits to being self-taught. I was shocked. This was an immediate red flag! I asked her a few basic questions with regards to nail prep and removal, and was horrified by her answers. Incorrect preparation of the nail plate, under-cured gel polish, and incorrect removal of the product can lead to some serious nail damage and may even cause irreversible allergic reactions. Please don't get me wrong, I'm not saying that all manicurists are untrained, I'm just saying that you should do your research and find someone that is qualified in the services that they offer.
A nail technician is a step further up on the industry rung. A nail technician is qualified to use gel polish, offer nail strengthening treatments, build nail repairs and sculpt extensions or enhancements to add strength and length to the natural nails. They have had adequate training in how the product works and needs to be shaped and sculpted in order for the product to stay on the nails, without doing any damage to the natural nail underneath.
Sculpting nail repairs and enhancements is a science (which is why chemistry of the products is included in a nail tech's training). Incorrectly applied enhancements will be unbalanced and may pop off in as little as 24 hours due to the product being incorrectly placed or shaped, and they may cause your fingertips to feel sore if they haven't been applied well. Again, do your research and find someone that is qualified. A qualified nail technician will ask what your hobbies are and what you do for a living, often on your initial client consultation form. They are not being nosy, this info is needed to be able to determine what product is best suited to your nails based on the training that s/he has received. Gel polish, builder gel, hard gel, polygel and acrylic all have different levels of strength and are better or less suited to different lifestyles and hobbies. (Read more about these products in our article "Gel vs Acrylic".)
Many nail technicians are nail artists as well. These are creative nail technicians who use colour, glitter, art and other techniques to transform your nails into little works of art. They are able to work on either your natural nails or on nail enhancements.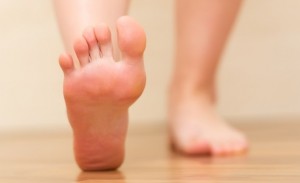 When it comes to pedicures, even though you may think your nail technician works wonders and is fabulous (and we love you for this), we do have our limits. As nail technicians, we are only allowed to offer you a purely cosmetic service. In other words, we make your toenails look pretty. We are not allowed to cut or remove any living tissue, and are not qualified to make medical diagnoses, which is why you would be referred to your GP or qualified medical practitioner if you present anything out of the ordinary (like a suspected skin or nail condition, or something that just doesn't look "normal").
Podiatrists offer a much higher level of foot care. Podiatrists and chiropodists are qualified to perform pedicures but have the added advantage of years of medical training, so they are qualified to deal with skin and nail conditions, like Athlete's Foot and other fungal infections. They are also trained to use specialist equipment that nail technicians and beauty therapists may not be qualified to use, and can even prescribe medications to treat certain conditions.
To sum it up, if your looking for a purely cosmetic service to make your feet look pretty, a manicurist or nail technician is qualified to paint your nails. If you're worried about something on your feet (verrucae, suspected fungal infection, overgrown or ingrown toenails, etc.), it's best that you visit a podiatrist first, as these require a medical diagnosis or treatment. The same applies if you suffer from diabetes – please see a podiatrist. Diabetes is a medical condition that requires careful management, and it often has an affect on the feet and toenails, especially when circulation is affected.
If you're looking for a qualified nail technician in your area (New Zealand only), consider using this salon directory.