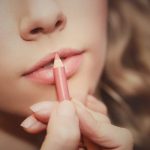 Lip liners define the lips and help prevent lipstick from "bleeding" into cracks and fine lines, while helping your lipstick last longer.
Lip liners can be used to outline the lips before applying lipstick. Alternatively, you can create a "stain" under your lipstick or lip gloss by lining your lips and then coloring the lips in with the same liner. When lining your lips (if you're not filling them in with the same liner), be sure to soften and blend the edges onto your lip with a cotton bud or clean finger, as this will prevent a solid line from showing through if your lipstick does happen to fade.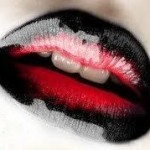 Generally, lip liners should be the same colour as your lipstick, or a nude shade that matches your natural lip colour. They really shouldn't be a few shades darker and definitely shouldn't be black! Unless, of course, you're creating an ombré effect on your lips with a gradient shading of colour from dark to light, (see picture).
Wherever possible, avoid applying lipstick to cracked, dry lips, as the lipstick will only emphasize any dry areas. This is particularly true for frosted or shimmery lipsticks. To get rid of dry flaky skin, exfoliate your lips gently with a lip scrub, soft toothbrush, or dry washcloth. After removing any dry skin, moisturise your lips with a lip balm or an eye cream before applying your make-up.
For natural looking lips, outline your lips with a nude lip liner and then colour them in using the same liner. Add a touch of clear lip gloss and you're good to go.
If you're wearing lipstick, wipe away any excess lip balm or eye cream before outlining your lips with lip liner. Soften and blend the inner edges of the liner onto your lips (if you're not filling them in with the same lip liner to create a stained base), and then apply your lipstick. Don't forget to blot with a tissue before applying a second thin coat of lipstick, as this will help it to last longer.
We have limited stock of nude lip liners available in our online store (shipping to New Zealand only).