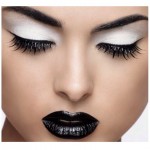 White eye shadow can be very flattering, but if applied incorrectly, it can look dreadful and leave you looking drained and pasty. Here's how to use it the right way.
If you're doing a full make-up and are going for glamorous or bold eye make-up, start by applying a light layer of white or off-white eye shadow over the entire eyelid area before you continue with other shades. It doesn't need to be a thick or opaque layer, but just enough to act as a base and make your other eye shadow colours pop. For best results, use an eyelid primer first, before applying any eyeshadow. We have limited stock of 2-in-1 eyeliner and eyeshadow pencils in our online store that work well as an eyeshadow base.
To brighten your eyes, use white eye shadow in the inner corner of your eye, just above the tear duct. This will enhance the area, making deep-set eyes look lighter and brighter. Always remember to blend the edges well with your other eye shadow shades as you go along; you don't want any harsh edges where one colour ends and another begins.
If you'd like your eyebrows to appear higher or more arched, simply apply a small amount of white eye shadow directly below the arch and again, remember to blend it in well.
Never wear white eye shadow on its own over your entire lid (from lash line to eyebrow) as you need darker shades in the crease and on the lower area of the eyelid to create depth and dimension to your eyes. Wearing white eye shadow by itself may leave you looking pale and washed out.
If you don't have a white eye shadow and would like to brighten your eyes or accentuate your eyebrows, use white gel pencil eyeliner or crayon eyeliner instead. Soften the pencil first by drawing a few lines on the back of your hand and then draw a small hashtag in the area where you want the white accent to be. Use your ring finger to smudge and blend the eyeliner until there are no lines left.