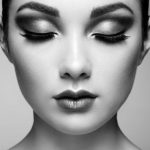 The Festive Season is here, so glam up your look with some false lashes!
False eyelashes add length and volume to natural eyelashes and come in two types, being temporary or semi-permanent.
Temporary eyelashes are the ones you can buy in stores and are fixed onto your eyelid, at the base of your eyelashes, with adhesive. They are designed to be worn for a short period of time (a day or less) and should not be worn when showering, swimming or sleeping. They come in either a full strip of lashes that covers your whole lid or in cluster lashes (usually a small cluster of three eyelashes) that can be applied to the outer corner or outer half of your eye, as you desire.
Semi-permanent eyelashes (also known as eyelash extensions) are individual lashes that are applied one hair at a time to your natural eyelashes, with a much stronger adhesive. These generally last until the natural eyelash falls out, although they may fall out quicker if oil-based products are used (like certain eye make-up removers and eyeliners, etc) or if the eyes are rubbed often.
If you're looking for some temporary, natural-looking, lightweight, false eyelashes to give you a little more volume and length for daytime use, try Eylure Naturalites #020. They come with a small tube of adhesive inside the box and if you treat them right, you can reuse them a number of times before they need to be replaced. If you prefer to use a proper eyelash adhesive and not the one supplied in the box, head over to your nearest MAC store and get a tube of Duo Adhesive.
After carefully removing the false lashes from the container, hold the lash up to your eye and measure the fit. Trim any excess from the outer corner, if necessary. Then apply adhesive to the flat part of lash band and let the glue dry for 30 seconds. This allows the glue to become tacky and it will stick better. Apply the false lashes to the skin directly above your lash line, getting it as close to your lashes as possible without sticking them onto your lashes.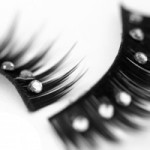 I prefer to hold my false lashes with my fingers, but tweezers also work (just be careful not to squeeze the tweezers too hard, you may kink the lashes). I like to start at the outer corner and work towards the inner corner, but this is just personal preference. Some people prefer to start in the middle and work out towards either side. Experiment with whatever works best for you.
To make your false lashes last longer, carefully peel them off at the end of the day or evening out (start at the outer corner and peel inwards) and then gently pull off any glue that may still be stuck on the edge of the lashes before washing them lightly in warm, soapy water. Leave them to air dry, before storing them on the plastic tray in the box that they came in to retain their shape.
Update: Since writing this blog post years ago, there are 'new' products on the market; magnetizing lashes which come with a magnetizing liquid eyeliner and magnets on the lash strip, and the other product is an eyelash adhesive eyeliner, which makes application really easy. Read more about the magnetizing lashes in this product review.