With summer on the way, make sure that you have fabulous feet to go along with those strappy sandals!
Yes, people do notice your toenails, especially if you're wearing sandals, jandals, or going barefoot on the beach. If you don't like the feeling of having someone touch your feet and won't pay to have a professional pedicure, or you don't wear nail polish on your toes, make sure that your toenails are neatly trimmed, filed straight across, and buffed to a high shine to keep you feet looking fabulous.
If you do opt for colour on your toenails, keep in mind that gel polish looks good for 6-8 weeks, while traditional nail polish (lacquer) will only last about 2-3 weeks before it starts to become brittle and begins to chip. Once your polish begins to chip, repaint your nails as soon as possible to keep them looking good.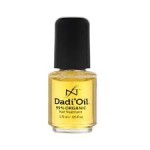 To keep you nails and the skin around them in perfect condition, use a good quality cuticle oil or cuticle balm daily. This will hydrate and moisturise the skin, while nourishing the nails and keeping the polish flexible, helping it to last longer without chipping. Never, ever cut your cuticles or the skin around your nails, and never let anyone else cut them for you. The hardened strip of skin at the base of your nail is there to protect the skin, nail and surrounding tissues from moisture and bacteria. If this skin is removed, it breaks the seal around your nail and you risk being exposed to bacterial infections.
Keep the skin on your feet looking great by removing any dry skin on a weekly basis. To do this, gently file away any dry skin using a pumice stone or foot file and then apply a rich moisturising foot cream, preferably right before you hop into bed, so that the cream can work its magic overnight. Try to remember to apply the cream to your feet each night to keep the skin smooth and free from cracks and callouses. If you don't have a specific foot cream, a rich body butter works well (like Skinfood Body Butter), or if you'd prefer something non-greasy try Oasis Beauty's Rhino Repair.