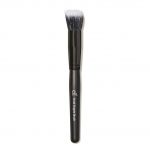 I bought my e.l.f. Small Stipple Brush from Kmart, and it has a unique two-layer two-tone black and white bristle design that adds soft, textured layers, which help to create an airbrushed effect when used to apply foundation.

The brush makes it easy to create a sheer to light application by swirling the brush around in circles, spreading the foundation over the skin, and can also be used to build up coverage to medium or full by dabbing or "stippling" the foundation in areas that need extra coverage. The design of the bristles makes it easy to get into those hard to reach places around the corners of the nose and under the eyes.

This brush is perfect to use with cream, liquid and even powder products, and the bristles remain soft even after many washes. Just be careful not to get the ferrule wet (the metal part that holds the bristles onto the handle), as getting water inside the ferrule will cause the glue to soften and weaken, which causes bristles to fall out.

For a cheap, affordable brush, I was quite surprised that it worked so well. It's great for use on oily and combination skins, although I'd be a little wary of using a stipple brush on sensitive or very dry skin, as a brush can aggravate sensitive skin or highlight very dry patches of skin by lifting them (a sponge or beauty blender is usually best to use on very dry skin).
e.l.f. brushes and products are available online or from Kmart.