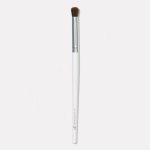 I picked up this e.l.f. Professional Blending Eye Brush for under $10 at my local Kmart.
The key to perfectly blended eyeshadow is a good, soft, fluffy blending brush.  This e.l.f. brush delivers on its promise of expertly blending multiple eyeshadow shades, while softening dramatic edges and fine lines. The fluffy, dome-shaped bristles on this blending brush easily fit into the crease of my eye and by using small back and forth strokes (imagine the motion of a windscreen wiper blade), it's easy to soften any harsh lines or to blend two colours together effortlessly.
For best results, keep this brush 'clean', don't dip it directly into eyeshadow, and only use it for blending. Use a separate eyeshadow brush to apply your eyeshadow colours before picking up this brush and use it for blending only. Simply wipe it on a clean tissue after each use, to make sure its ready to be used the next day, and wash it when you wash all your other make-up brushes.
This versatile little brush can also multitask; it can be used to apply powder over concealer under the eyes, and to apply highlighter under the brow bone or in the inner corner of the eye.
I'd definitely recommend this brush, especially if you have been battling to get your eyeshadow perfectly blended. I will be purchasing another one when my current one reaches the end of its life span, although I've had my current only for nearly three years now, and there's been no bristle fall out and the brush still looks as good as new!
e.l.f products and brushes are available online or from Kmart.