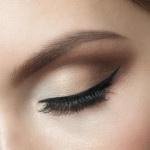 Applying eyeliner can be tricky, especially if it's something you've never done before.
If you're just starting out and have never used an eyeliner before, I would recommend starting with a pencil. These are easier to apply and will allow you to master the art of drawing the line as close to your lashes as possible.
When applying eyeliner (pencil, liquid or gel), don't pull at the skin of your eyes and instead of trying to draw one solid line, rather use short, firm strokes to form a neat, straight line. Try working from the inside outwards or from the outside inwards, to see which is easiest for you. You may even want to do both, meeting the two lines in the middle of your lid. This is all about personal preference and what works best for you.
Once you're comfortable with a pencil, move on to either a felt-tipped liquid eyeliner (like Maybelline Master Precise liner), a liquid liner or a gel eyeliner (like Bobbi Brown Long-Wear Gel).
If you do make a mistake and end up with an uneven line, simply dip a cotton bud or Q-tip into a little make-up remover and gently erase your mistake or tidy up your line.
See Pencil eyeliners and Gel vs Liquid eyeliner for further information on what these eyeliners can do for you, and if you're keen to read more about different ways to apply eyeliner, check out this article from Positive Health Wellness.