Make-up and cosmetics contain a variety of ingredients which are absorbed through the skin and may even be breathed in (fine particles in powders, etc.). Chemical preservatives called parabens are used in many cosmetics and make-up products to fight bacteria and fungus.
Parabens are readily absorbed through the skin and may be linked to breast cancer tumours (it is said that parabens seem to mimic the oestrogen hormone which may play a role in the development of these tumours and is thought to be a factor in the increasing prevalence of early puberty in girls). In individuals with paraben allergies, skin irritations like contact dermatitis and rosacea can develop.
Methylparaben may also accelerate the aging process in skin cells when exposed to UVB. It has been suggested that parabens may also lead to the degeneration of eye tissue, resulting in the early loss of eyesight.
Parabens most commonly listed in cosmetic or make-up products are:
Methylparaben is found naturally in small amounts in some fruits like blueberries. Methylparaben is an antimicrobial agent and manufactured Methylparaben is used as a fungicide. This is toxic in large concentrations.
Ethylparaben is used as an antifungal preservative.
Propylparaben occurs naturally in many plants and some insects and is also obtained from Benzoic Acid. Manufactured Propylparaben is used as a preservative mainly in water-based creams and lotions.
Butylparaben is an antimicrobial used in eye shadows, foundations, moisturisers, sunscreen and anti-aging products. This is the paraben that has been linked mainly to breast tumours.
It appears that parabens have now been banned by all the major natural and organic certifiers in the world, including the USA, the UK, Europe, Australia and Japan.
There are many conflicting reports and reviews when it comes to parabens. Some claim that parabens are dangerous and should be avoided, while others claim that parabens in cosmetics are perfectly safe. The choice to continue using products containing parabens is a personal decision and varies widely from person to person.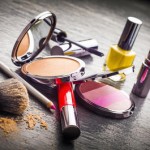 With all this in mind, trying to find paraben-free cosmetics and make-up (especially eyeliners, eye shadows and mascaras) has proved to be rather tricky, as they're not readily available to the average consumer (in South Africa anyway) and one has to do quite a bit of research or hear via word-of-mouth of a particular brand and where to get it from.
I have come across a few products that are paraben-free and have begun compiling a list of paraben, phthalate and SLS free make-up and cosmetics: "Paraben free make-up and cosmetics".
Please remember that if you're starting to use a new range of skincare products, do a sensitivity patch test 24 hours prior to use (either behind your ear or on the inner arm). Once you start using a new product, give your skin time to adjust. It'll take 2-3 months for your skin to settle down and reflect the benefits of any new products you use.