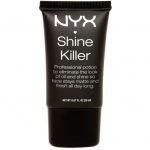 NYX Shine Killer is a non-greasy, liquid gel primer that helps to reduce oil and shine while smoothing the skin's texture, minimising pores and blurring fine lines, to provide the perfect canvas for your foundation.
The transparent, odourless gel comes in a 20ml (0.67 fl oz.) matte black squeeze tube with a screw top cap. Once applied to the skin, the gel is easily absorbed leaving a velvety smooth, silky feel on the skin with a matte appearance.
To apply NYX Shine Killer, I squeeze a small pea-sized amount onto my fingertips and gently rub my fingers together before lightly patting the product all over my face and neck before gently massaging it onto my skin.
Like other face primers, I found that my foundation glides on more smoothly and evenly, blends really easily and that I may even use a little less foundation while still getting the same (or even better) coverage. After applying my foundation, I set it with a light dusting of powder as this also helps to keep my make-up looking shine-free for even longer.
I found that using NYX Shine Killer definitely did keep my make-up looking matte and shine-free for a few hours longer than normal, when compared with other silicone based primers.
If you do have oily skin, please bear in mind that most matte products will only keep your skin looking matte or shine-free for a maximum of 4 to 6 hours. This will vary from person to person, depending on how oily your skin is. Unfortunately, there are no miraculous "all-day-long" oil absorbing or mattifying products out there and your skin will eventually produce more oil than the product is able to absorb.
NYX Shine Killer is not paraben free, as it does contain Butylparaben, Ethylparaben, Methylparaben and Propylparaben.  Available from various online retailers and selected Farmers stores.
Note: NYX Shine Killer is silicone based, so if you are allergic to products containing silicone or silica derivatives, please use with caution and preferably do a patch test before purchasing.