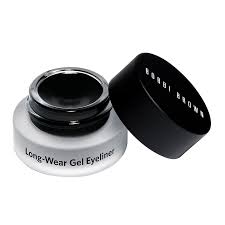 I have Bobbi Brown Long-Wear Gel Eyeliner in Black Ink (black) and Espresso Ink (dark brown), and the creamy, thick gel is packaged in a 3g sturdy opaque glass pot with a black screw top lid. It's a long-wearing, waterproof, sweat- and humidity-resistant gel that stays on all day without smearing, creasing or flaking.
Personally, I find a gel eyeliner much easier to apply than liquid eyeliner, as gels take a little longer to dry and give me more time to fix any little mistakes or uneven lines. Liquid eyeliner is much more unforgiving, as it dries faster and can be a little tricky to apply as you need to have a much steadier hand.
For a thicker line, apply the gel with an angled brush, or use a a fine eyeliner brush for a thinner line. Once applied, this gel liner looks similar to liquid eyeliner, and the colour simply glides on very smoothly. If you do make a mistake while applying gel eyeliner, simply dip the end of a cotton bud or small brush into some eye make-up remover or micellar water and use this to erase your mistake without having to remove all your eye make-up.
Bobbi Brown Long-Wear Gel Eyeliner is quite expensive and even though the pot does last a long time, the formula of this gel does start to dry out and shrink away from the edges of the pot after a few months, so make sure that you close the lid really tightly after each use and store the little pot upside down, on its lid. By storing it upside down, this seems to help prevent it from drying out as fast.
When wearing Bobbi Brown Long-wear Gel Eyeliner I do find that my eyelids feel a little irritated towards the end of the day, almost like the gel liner is sucking all the moisture out of my skin, and my eyelids look quite red and sensitive after removing the gel. I've tried various types of make-up remover, as well as oil cleansing, and it's not a reaction to the make-up remover or the way I take my make-up off, as this doesn't happen with other long-wear gel or liquid eyeliners.
If you'd like to give this product a try for yourself, Bobbi Brown Cosmetics are available from Farmers stores, selected department stores, or online.